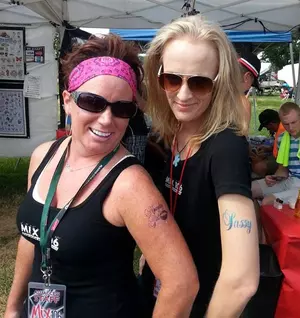 Why I Admire Kate McGwire
Jen Austin - Townsquare Media
How many times in your life have you had an inkling that you should do something, and failed to act on it?  Yeah.  This is why I have so much love and respect for Kate McGwire.
Monday was a hard/happy day around Mix 106.  Kate announced on the morning show that she is leaving, and Friday will be her last show with Mike.  I knoooow!!!!  We're all sad to see her go, wishing her the best, and admiring her for the bravery it took to arrive at her decision.
She clears up rumors about why she's leaving in her blog, and if you haven't read it yet you can find it HERE.
Kate is such an inspiration to me!  She walked up to the edge of that cliff, took a deep breath, and jumped right off.  Being on a wildly popular show and at the top of her game made the decision to leave a gut-wrenching one, but going out on top is admirable.  She's the Seinfeld of Mix 106.
We talked a couple of hours before she made the announcement on the air yesterday, and she said her stomach was in knots.  Mine was in knots for her.  But seeing the outpouring of love and support for Kate on the website and Facebook after the announcement made us all so happy!  And it re-enforces just how special she is.
In my early twenties, I moved my entire life from Nebraska to Austin, Texas on a whim, without knowing a single person, and I felt like I was cliff-jumping.  It was scary and it was a huge leap of faith, but everything worked out, and that risky move led to blessings that I had never dreamed of.  I'm sure as Kate ventures out into the great unknown, she will be incredibly blessed too.  She deserves to be.
I love ya, Kate!  You're an inspiration to me as a radio personality, as a single lady trying to weed through Tinder dudes, and as a friend. I am blessed that our paths have crossed, and I wish you all the best!  There will never be another greased pig chaser as good as you.