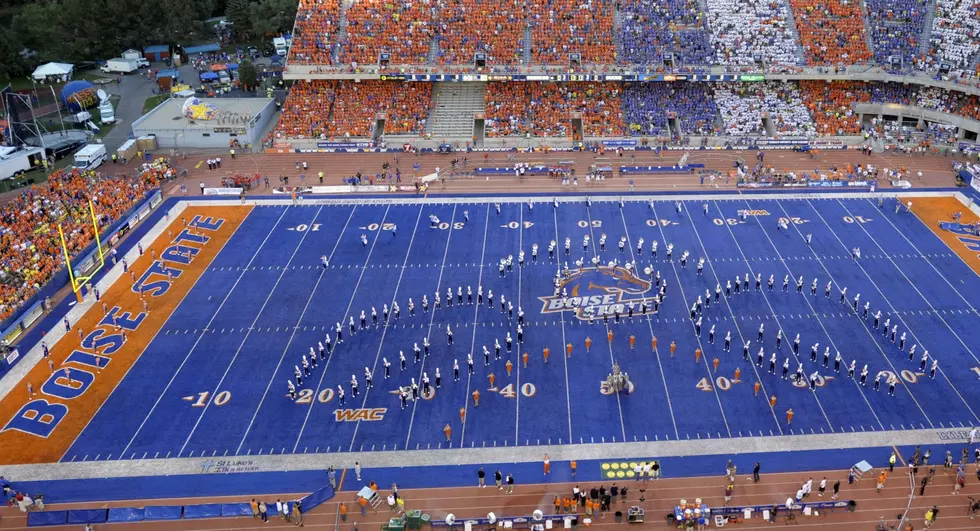 The Sounds Of Normal: Hearing The BSU Band Practice
Getty Images
As a former band kid (middle, high school & college), when I got in my car at our downtown studios and heard the BSU band practicing, I had feelings of excitement, calmness, and normalcy.
The wind blew the sound in my direction and the ever so familiar sound of a drum cadence, with an exciting rhythm in the distance that made me literally shut off my car and listen to verify what I was hearing. Moments later I heard the proud sound of the brass playing the Boise State fight song and I thought, "I'm going to follow the sound".
I figured what I was hearing was the band practicing as a collective inside Albertson's Stadium, on the blue field but as I drove by the university, I was brought back to a much more realistic, normal every day marching band ritual. Sectionals! Around the parking lot near trees and anywhere grass could be found, different sections were practicing their parts. The horns were under a massive tree, the trumpets were next to the church. I didn't see the drumline but I certainly heard them. In a special 2020 twist, the section leaders and drum majors had masks on, but this isn't slowing the very talented Keith Stein Blue Thunder Marching Band of Boise State University.
The unfamiliar has become familiar in 2020 and to hear and see the students and the marching band was a quick and welcomed break from reality. Shout out to the band, the cheerleaders, the team and everyone else involved in making this year as special as possible.
Check out this video of the band performing the fight song virtually back in May. So Impressive!
Enter your number to get our free mobile app
KEEP READING: See how sports around the world have been impacted by the coronavirus