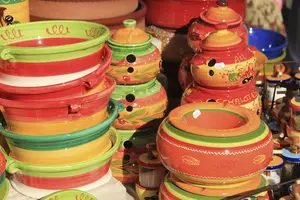 The Empty Bowls Fundraiser is This Week, and You Can Still Paint One
ThinkStock
For months, the Idaho Food Bank has been collecting handcrafted and hand-painted bowls for this week's Empty Bowls fundraiser.  There are three places this week where you can still stop in and paint one too.

The Friday after Thanksgiving, The Idaho Foodbank hosts Empty Bowls in downtown Boise on the Grove Plaza, and we'll be able to pick out any bowl and have some soup courtesy of several restaurants that are donating it.  Soup bowls will start at $10, and there is still time to paint one to help the cause.
Stop by any of these places this week and tell them you'd like to paint a bowl for the Idaho Food Bank.
Ceramica
1002 S Vista Ave.
Boise
208.342.3822
www.ceramicaboise.com/
A Way With Clay
12570 W Fairview Ave
Boise
208.297.2333
www.awaywithclaystudio.com
Mondaes Makerspace & Supply
200 12th Ave S
Nampa
208.407.3359
www.mondaes.com
During the holidays there always seems to be more awareness about hunger, and there's usually an overflow of gratitude too. Both of those things will help the Idaho Food Bank this week, and throughout the holiday season.  In fact, thousands of Idahoans are depending on it.  Plus, painting is fun!
The Idaho Food Bank says there are 210,420 people in the state who are food insecure, so the need for donations is big.  If you miss the Empty Bowls fundraiser this week there are ongoing opportunities to donate time or money throughout the year, and they would love the help.
Happy Thanksgiving.