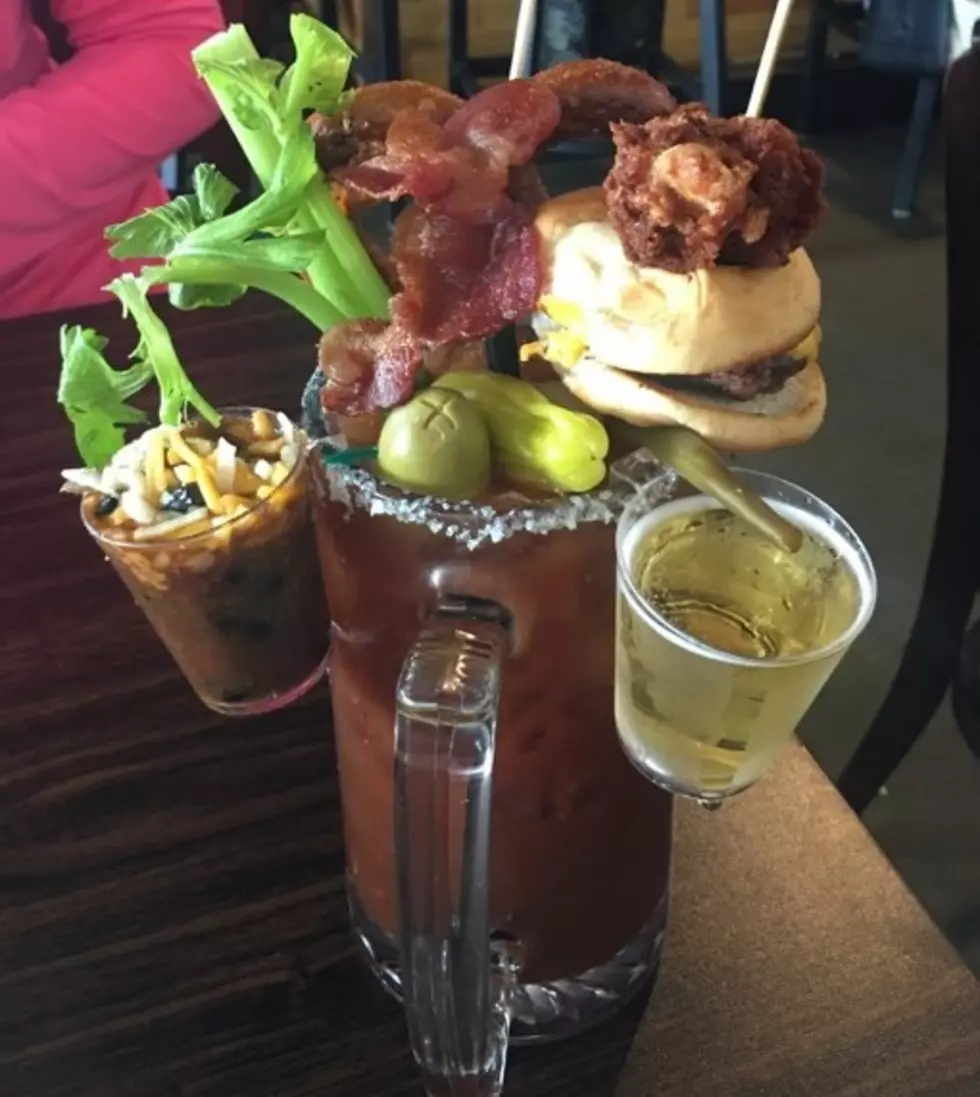 Searching for Boise's Best Bloody Mary Breakfast: Homestead
Mike Kasper, Mix 106
I've been on a quest for the past few months...searching for the BEST Bloody Mary breakfast in the Treasure Valley. I've visited Bardenay in Eagle, Grant's Neighborhood bar and grill in Meridian, Fork in downtown Boise and Twin Peaks at the Boise Spectrum. I continue my search for the ultimate Bloody Mary breakfast with stop number five at Homestead Bar and Grill in Meridian....(Spoiler Alert) I now realize why so many of you have called or written to recomend Homestead.
I'm sacrificing my Sunday mornings in search of the best Bloody Mary Breakfast in the Treasure Valley. My latest stop was Homestead Bar and Grill at Chinden and Linder in Meridian .
Alright let's get this out of the way right now...I've had more people write and suggest that I try Homestead than any other place....and now I can see why. This by far, so far is the best Bloody Mary I've tried in the Treasure Valley..and here's the deal, the actual Bloody Mary is also a meal in itself..just look at the photo. And that is just one rendition..(They Serve two different kinds)
Seriously, I love everything about Homestead's Bloody Mary...from the beer and chili side cars to the slider, fresh baked pretzel, pickled and fresh vegetables to the crispy bacon. But for those of you who maybe don't like a salad bar on top of your Bloody Mary, you are in luck...the taste of the actual Bloody Mary, is nothing short of AMAZING...this would cure any morning after hang over. Plus, this really is a meal and a drink in one....the Bloody Mary alone will fill you up, making you wonder why you even bothered to order breakfast...yes it's that good!
I don't like to award a 10 for my scoring, because I don't...or didn't believe any Bloody Mary could be perfect...but this is about as perfect as you could get. This is the best Bloody Mary I've ever had the pleasure to consume and that includes my own special Candied Bacon Bloody Mary...so in this case I must award the Blood Mary from Homestead a perfect 10!
As for the breakfast there are only a few different choices. My wife went with the Homestead breakfast, which is what I would normally order, but I want to make sure I try out something different so I ordered the Country Bowl. The choices are limited. There are only 6 choices, but they are all extremely affordable and the breakfast is only served on the weekends before 12 noon. They also offer kid's breakfasts for $4.99
I loved the homestead breakfast, everything was cooked to perfection nothing fancy just a straight forward belly busting breakfast. I didn't enjoy my country bowl as much...unfortunately I like my fried potatoes extra crispy, but with all the peppers and onions (there was a lot) the potatoes tend to get really mushy...so on a scale of 1-10, between the two I would award a total of 7. But remember the real star at Homestead is the Bloody Mary.
Coming up, I'm still planning Bloody Mary Breakfast stops at Bacon in downtown Boise, Eureka in downtown Boise and Lucky Fins in Meridian and downtown Boise....
Once again if you know of other amazing places to have a Bloody Mary Breakfast that might be hidden in some corner of the Treasure Valley please let me know so I can sample them and let everyone else know too.
And I'm searching the entire Treasure Valley, so if you know of an awesome place in Nampa or Caldwell etc. please drop me an email at Mike.Kasper@TownsquareMedia.com and tell me about it! I look forward to hearing from you.
For those who love to make your own Bloody Mary's, here's a video showing how I make mine every Thanksgiving!