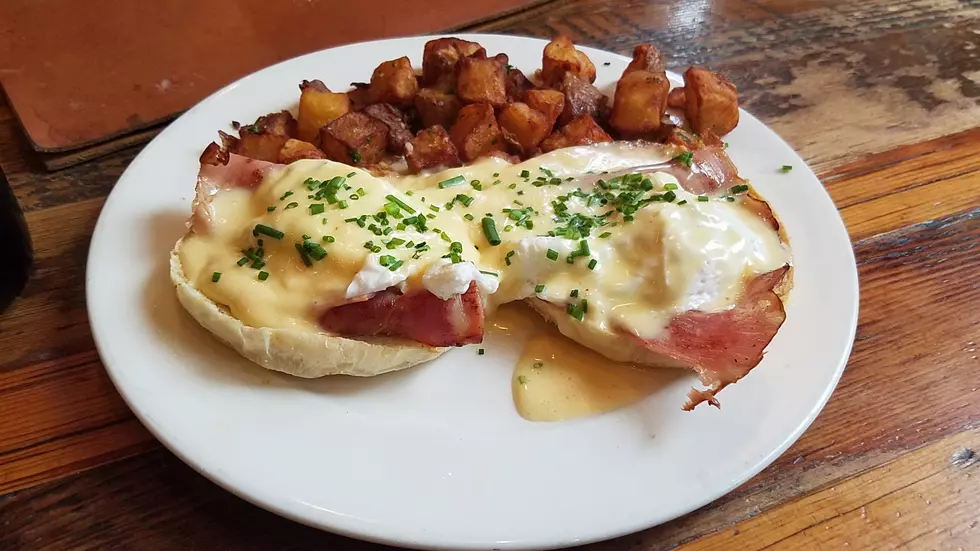 Searching for Boise's Best Bloody Mary Breakfast: Fork
Mike Kasper, Mix 106
I LOVE a good Bloody Mary with a great breakfast chaser. That's why over the next few months, I will be sacrificing my Sunday mornings in search of the best Bloody Mary Breakfast in the Treasure Valley. This week, after many recommendations from listeners, I finally tried Fork, located in downtown Boise.
Let's start with the Bloody Mary. Fork offers guests two options. You can either have the bartender make yours for you, or you can take advantage of the DIY Bloody Mary bar. The DIY spread was loaded with all sorts of sauces, seasonings and various juices. While it looked amazing, I wanted to keep all my stops on an even playing field so I went with the bartender's version.
The bartender version is understated. There's nothing over the top about Fork's version. You have simple pickled okra, pickled been, pepperoncini, and a single pickle with a cocktail onion. Taste wise, the Bloody Mary was good, but it wasn't memorable. Nothing about their beverage stood out, either with taste or appearance. Because of this, I give the Fork Bloody Mary a 6 on a scale of 10.
Where they fall short with their Bloody Mary, their food shines! I ordered the Chef's Benny and it was Delicious with a capital D! I have to also point out these may be the most perfectly cooked breakfast potatoes I've ever had. They were not only hot but extra crispy on the outside and soft on the inside. Every restaurant in America should take lessons! My wife had the Dungeness Crab scrambled eggs, also delicious.
Our friends Bo and Natalie had the Biscuits and Gravy and Fried Chicken & Ballard Cheddar Waffle 'Sliders', respectively. I'm not a huge fan of chicken and waffles, but these were especially good with a wonderful sweet and savory combination that could make me change my mind about the whole chicken and waffle thing.
While I wasn't overly hyped for the Fork's version of the Bloody Mary, the Fork Brunch is my favorite breakfast so far and I'm giving it my highest score...a solid 9 out of 10. Keep in mind Fork is popular so I'd suggest making reservations. Or you can call (208) 287-1700
In the coming weeks I'm planning to hit Homestead Bar & Grill in Meridian, Bacon in downtown Boise, and Twin Peaks, home of the "make your Own Bloody Mary and Omelet Bar, but once again if you know of other amazing places to have a Bloody Mary Breakfast that might be hidden in some corner of the Treasure Valley please let me know so I can sample them and let everyone else know too.
And I'm searching the entire Treasure Valley, so if you know of an awesome place in Nampa or Caldwell etc. please drop me an email at Mike.Kasper@TownsquareMedia.com and tell me about it! I look forward to hearing from you.
For those who love to make your own Bloody Mary's, here's a video showing how I make mine every Thanksgiving!