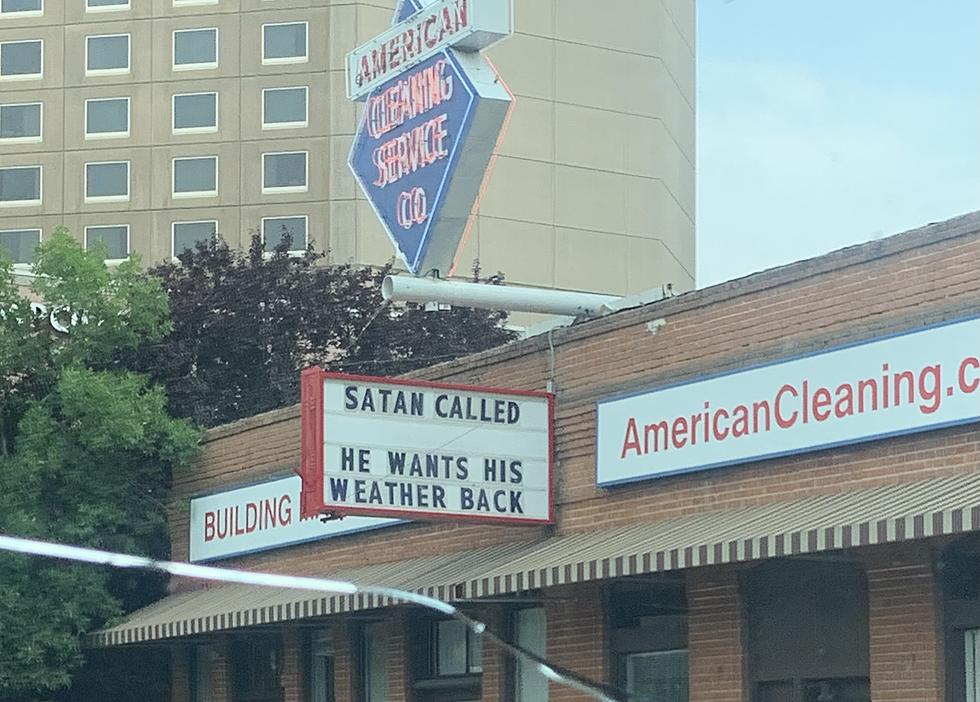 Downtown Boise Business' Marquee Is The Greatest Of All Time
Photo Credit: John Moug
Always attention grabbing, always timely and always pretty funny... Take a look at American Cleaning Services' different takes on current events and fantastic dad jokes over the past year.
Right now, they're clearly talking about the awful haze in the sky from the burning smoke from the wildfires in Northern Idaho with the line"Satan called, he wants his weather back", but let's take a look at some of the previous things they've put up on their Front St. marquee.
Clearly they had to take a moment to acknowledge Boise's Mark Johnson's viral fame back in April...
Back around Valentine's Day, they taught us all a valuable life lesson with the quote,
"Love-a temporary insanity curable by marriage".
Last year, a great quote was posted: "In search of fresh vegetable puns-lettuce know". Who doesn't like a good dad joke?
Ok, maybe they had a streak of dad joke/puns:
Here's one the mental health professionals will get a kick out of: "Someone's therapist knows about you"... Ain't that the truth...
Back in January of 2020, American Cleaning Services' marquee hit us with this fire snow man joke: "What do you call an old snowman? Water" Is this the king of all dad jokes?
Ok, one last incredible dad joke: "What happened to the cat who ate wool? It had mittens". This is grade A stuff, guys...
By the way... Have you ever driven by and wondered what this business is? American Cleaning Service Co. handles janitorial, window, carpet, floors, construction clean-up, disaster response & industrial laundry. You can learn more about them and their services by checking out their website here.
13 Boise Businesses That Nailed It With Hilarious Signs
28 Google Street View Images That Show Just How Much Boise Has Changed
Stunning Boise Home Bathrooms That Make Peeing Feel Fancy