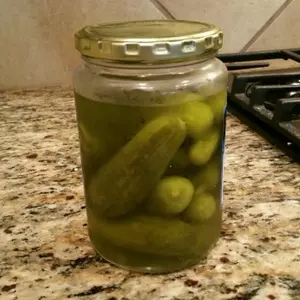 The Pickle Trend Hits the Treasure Valley
Jen Austin - Townsquare Media
What's with all the pickles? These little fat free and low-cal wonders are becoming a thing, and Idaho is on board with the trend.  But a popsicle?  There are several spots to get a dill pickle popsicle right now, and even more stores will add it this summer.
Athletes have been drinking pickle juice for years.  It can help retain water and keep us hydrated while we're sweating, and prevent cramps and injuries to muscles.
Pickles started out as cucumbers of course, and there's a lot of water content in those veggies.  Then add the salty brine, and if you take all of that in, you can probably hang on to an extra pound or two of water weight.  That's why guys love 'em and women don't, so much! Pickles are almost always seen at concession stands at high school football games around the Treasure Valley in the fall too.  They taste good on the sidelines.  Just don't weigh yourself the next day.
One company is adding electrolytes, freezing the pickle juice, and offering it up as a popsicle.  Your tongue is going to be so confused. Usually a popsicle is sweet and cherry-like, and this time your tongue will pucker up and get a sour shock. But it's part of the pickle trend, so we'll try it and enjoy it.
The pickle popsicle is already available at several places around Idaho, and Walmart stores will be adding it this summer.  You can also buy a bag on Amazon and stick the tubes in the freezer after the arrive.
If you're on the hunt for pickle popsicles, Van Holten's website has a list of locations around the Treasure Valley that are selling them.
Nearly every Stinker Store has the pickle popsicles, along with the Maverick locations at 2710 Main St. in Boise, 12170 W. Ustick, and 6168 S. Cloverdale Rd.
Oh, and did you know there is a website dedicated to the love of pickles?  It's true.  Ilovepickles.org is proof that pickles really are a thing.  But popsicles?  We'll look forward to your thoughts.