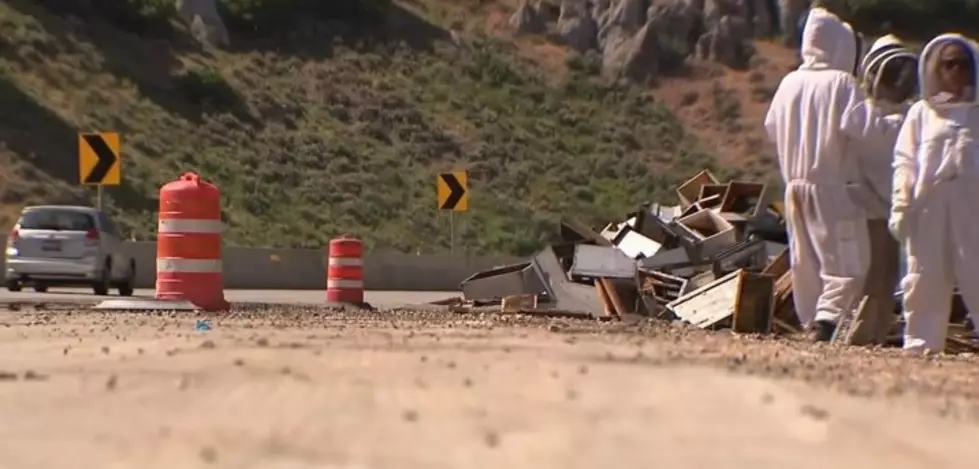 Millions Of Bees Released On I-80 In Utah After Semitrailer Crash
Photo by: FOX 13 News Utah
Lizzie McGuire famously sang, "this is what dreams are made of." Well, this is what nightmares are made of.
A semitrailer carrying more than 200 beehives--not bees, beehives!--that contain over 25 million bees overturned on I-80 in Utah last week! 25 million bees! That's a lot of bees.
Obviously, the semi turning over didn't make the bees very happy. Once they were freed they stung several people, and the owner of the hives reportedly had firefighters spray the bees with foaming, which effectively kills the bees. The driver and a co-driver, who was also inside the vehicle, sustained minor injuries and were transported to a local hospital for treatment.
According to the reports, Police found that the driver of the semi was going too fast through curves and was ticketed for the crash.
There is nothing in life that scares me more than bees...except for maybe wasps. Their dangly legs are very intimidating. However, even I have to feel for the fallen bees. They are a necessary part of our ecosystem due to their pollinating, even though I wish they served no purpose and we could get rid of them. They do a lot of good for us, though. So, I will remain silent on this issue. Just know...I am scared of bees.
Take a look at pictures from the scene of the crash courtesy of local Utah news stations. There are so many bees, I feel overwhelmed just looking.
Millions Of Bees Released On I-80 In Utah After Semitrailer Crash
25 million bees were released on I-80 in Utah after a semitrailer carrying 200 beehives overturned! 25 million! Can you imagine!? So scary.
It seriously is mind blowing thinking about 25 million bees. 200 hives!? Just think about how many bees you'll see if you have one hive near your house. Now, multiply that by 200!
Take a look at how many bees 25 million actually is with the videos below. The scene of the accident is truly my nightmare. Not only is crashing horrible, but then you have to get out of the car and face the 25 million bees! Truly out of the firepan and into the fire on this one.
That's just the start of it! There's a lot more detailed in the next videos.
One more video just so you can see how wild this scene truly is. Can you imagine? I can't. I just can't.
Bees can ruin your summer. Here are some tips to help keep you safe and wasp-free this summer. Take notes!
5 Tips To Avoid Wasps In Idaho This Summer
Don't let wasps ruin your summer! If you want them to leave you alone, you best follow these five tips.
Top 12 Causes of Idaho's Spike In Car Crashes
Utah's 10 Most Liberal Cities
Take a look at what cities host the most liberal thinkers in Utah.
Utah's 10 Most Conservative Towns
A top 10 guide to Utah's most conservative towns.