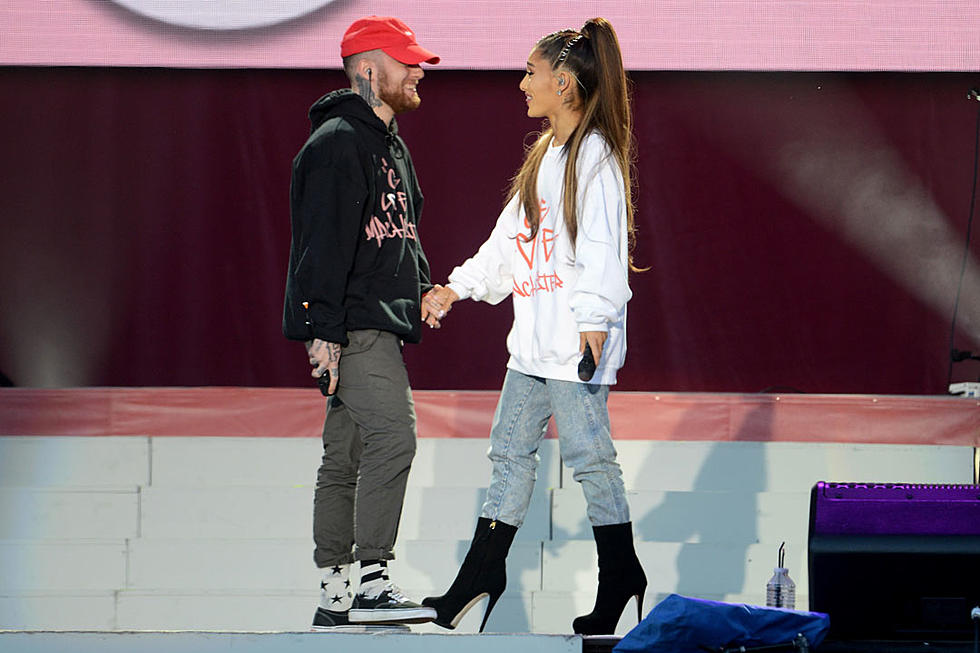 Mac Miller's Friend Says Ariana Grande Was Most Supportive of His Sobriety
Getty Images / Dave Hogan for One Love Manchester
Mac Miller's shocking death has been mourned by friends, family and fans since Friday (Sept. 7), when it was announced the rapper passed away from a suspected overdose. Many were quick to point the finger of blame at his ex-girlfriend, Ariana Grande, but Mac's friend Shane Powers says that no one was more supportive of the rapper as he battled addiction than Ariana.
While paying tribute on his podcast The Shane Show, Powers spoke on Mac Miller's relationship with Ariana Grande, and says she was an incredibly impactful influence on his path to sobriety.
"I have to say, she was incredible when he was first sobering up," Powers said in audio obtained by TMZ. "She was a fuckin' G to him. There couldn't have been anybody more supportive of him being sober than Ariana. I saw that, I was around it, I took phone calls from her: 'How do I help? What do I do?' This girl was unbelievably involved and helpful to him in being healthy ... I gotta tell you, there was no one in Mac's life more ready to go to the wall for him when it came to him being sober. She was an unbelievably stabilizing force in his life. She was deeply helpful and effective in keeping him sober and helping him get sober, she was all about him getting healthy. Period."
In light of the rapper's death, fans flooded Ariana's Instagram comments to the point that she had to disable them, writing things like "You killed Mac." The two broke up in May after nearly two years of dating, and Ariana alluded to the fact that Mac's battle with addiction was a driving force in the breakup.
She later called the relationship "toxic," after fans blamed her for his DUI arrest shortly after their split. "I have cared for him and tried to support his sobriety & prayed for his balance for years (and always will of course), but shaming/blaming women for a man's inability to keep his shit together is a very major problem," she wrote.
Ariana announced her engagement to comedian Pete Davidson shortly after her and Mac's breakup, but the rapper said he harbored no hard feelings about it. "You know, it's all positive energy. I am happy for her and moving forward with her life just as I'm sure she is with me."
Ariana Grande has yet to make an official statement on Mac's passing, but simply posted a black-and-white photo of him on Instagram in the days after his death.
Mac Miller died of a suspected overdose in his San Fernando Valley, Calif. home on Sept. 7. The official cause of his death has yet to be determined as medical examiners await toxicology results.
Listen to Shane Powers discuss Mac Miller and Ariana Grande's relationship below.
See Photos of Mac Miller's Different Looks Over the Year