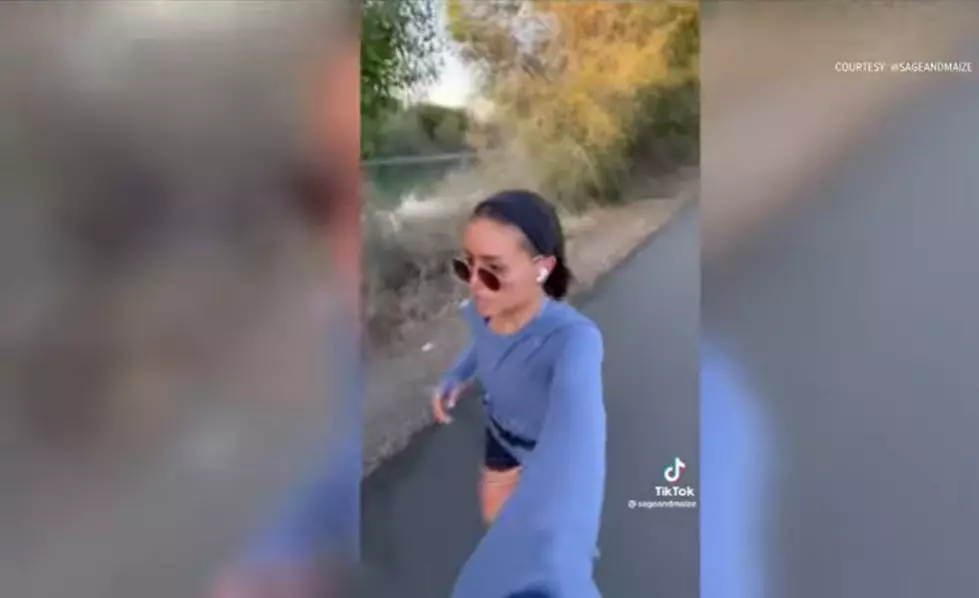 Idaho Girl TikToks Her Creepy Encounter On a Run
YouTube // KTVB
Eerie Feelings & Instincts
Samantha MacIntyre got the eerie feeling something was wrong.
Five miles into her daily run, the half-marathoner noticed the same car had driven past her twice. On both passes, MacIntyre witnessed an unnamed male behind the wheel of a red sedan eyeing her with an uncomfortable intensity.
Is glancing at someone while you're driving a crime? Of course not. But when you're hanging out of the driver's side window to do it, that's weird. In an interview with KTVB, MacIntyre described the disturbing encounter.
"It was super weird, the top half of his body was out the window, looking back multiple times making eye contact with me," MacIntyre said. "I was like, that's not normal behavior. Cars pass me all the time, they've never done that before."

 
MacIntyre & McCreepy
After the second pass, the driver did something even more suspicious. Like a total weirdo, McCreepy drove ahead of MacIntyre and parked his red sedan under a shady tree. If that doesn't scream nefarious intent, what does?
Completely freaked out by McCreepy's unnerving behavior, the young woman abandoned her training plan in the name of self-preservation. Thinking on her feet, she sprinted to a nearby home on her regular running route. Upon making it to safety, she immediately called the Boise Police and began sharing the incident on TikTok.
Social Security
As it turns out, MacIntyre regularly documents and shares her running adventures with her nearly 300,000 followers on TikTok. When asked why she chose to share this particular incident, she said she hoped it would help other runners in similar circumstances in the future.
Since sharing her uneasy encounter, her post has gone viral with over 7 million views in the last five days. MacIntyre says she's grateful for the overwhelming support and the opportunity to reiterate the importance of trusting your gut. The Boise Police have since conducted an investigation into the sedan driver's background, and found no criminal history.
8 Deaths & Murders That Devastated Idaho
Please join us in honoring the legacy of these beautiful Idahoans we lost too soon.
3 Creepy Idaho Murder Cases That 'Forensic Files' Could Explore
Bonner County Sheriff's Office shared a post that 'Forensic Files' recently finished working with them on a new episode. What case are they exploring? Here are four cases we think could warrant an episode of 'Forensic Files'.
The 7 Tenets of the Satanic Temple of Idaho