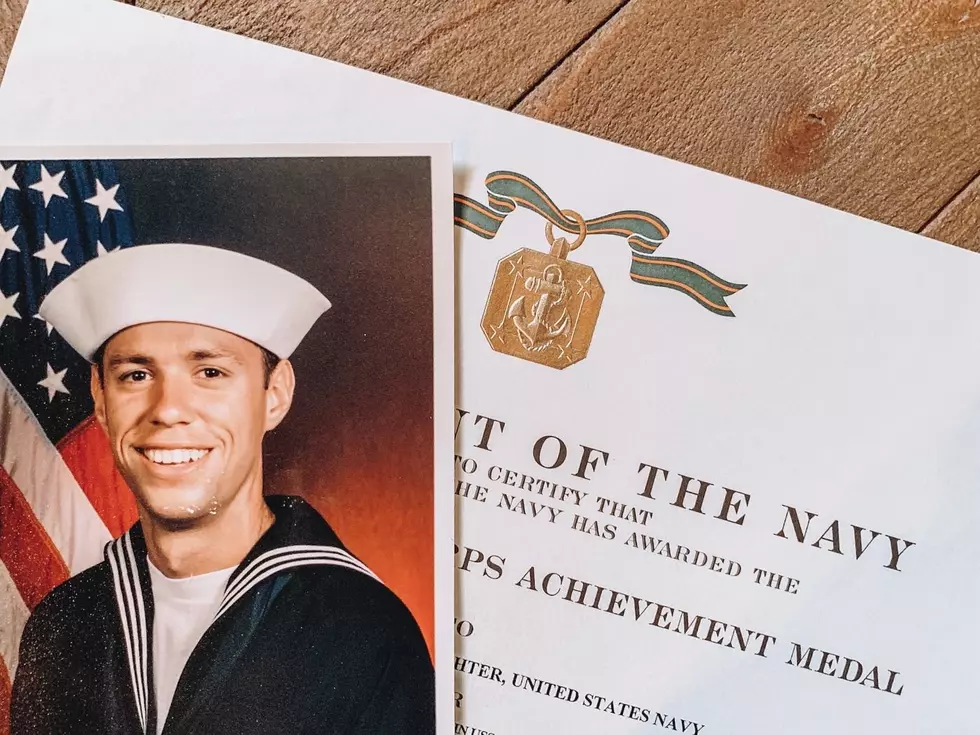 The Thing I Said In Navy Bootcamp That Changed My Life
I look the same!
It's the part of my life that I probably miss the most because it's where I officially grew up. The United States Navy. The stories. Memories. Lessons. It's a place on Earth that has its own rules I guess you could say. It's like you get in trouble off base and they somehow bring you back. That's actually worse.
It's Veteran's Day and once you've enlisted the love never goes away. I remember the ones that meant the most and the brotherhood. That's why living in Boise, Idaho filling up with gas I will stop to shake someone in uniform's hand. It's that important.
I've posted a very long list of freebies today so please click through for free haircuts, breakfast, lunch, coffee and some can be used at your convenience. Click here.
Enter your number to get our free mobile app
I remember an afternoon in San Diego during Bootcamp when I was the target. I promise the drill Sargent grabbed my bag, unsnapped the duffle bag, and then continued to embarrass me. He asked me what I was thinking about. Wow. I remember this like it was yesterday as Z90 was playing on the radio in the background and I said like the idiot I was (or confident younger man I was)
I was just listening to the DJ thinking I could do better.
This is a true story because I said this in front of 60 men standing next to their beds. The drill Sargeant laughed hysterically with this one
Really? Really? You can do better than that guy?
That's why you're here right now, isn't it, shipmate? Because you're a badass radio dj?
That's when I didn't respond. The next part continues with him taking all the other men and having them lay down in a circle on the ground. Once everyone was almost laying down he said this,
Congratulations. Are you proud of yourself? You were so busy fantasizing about being a radio DJ that all your shipmates were killed in the line of duty. How do you feel now?
As tears rolled down my eyes you can only guess my reaction and everyone else's feeling. I just got owned. I learned at that moment I must really love radio! It also sent me a mental message this is for real. True story. As Matthew McConaughey would say, greenlight.
It's funny looking back at that moment but I learned a lesson. A life lesson. Things we went through took our lives in separate directions. I did radio on one of the most powerful Aircraft Carriers in the United States of America serving next to true heroes. This shaped who I have become and the loyalty I have is everlasting.
I was in the Navy, working weekends at Express in downtown Seattle and acquired an internship doing radio. I remember driving for my Captain as we left an engagement I was taking photography for. Captain Kelly (whom I'll never forget because he would never ask you to do something he wouldn't do himself) asked me this question
What are your plans when you get out? What do you want to do if I can't talk you into re-enlisting? I responded quickly with confidence, I'm going to get a job at this radio station in Seattle. That's my dream.
That would be my pathway to my dreams. I learned about life, respect for my country including the men/women who wear the uniform, found myself somewhere between visits to Hong Kong to Taxis in Dubai, and somehow ended up in Idaho. I would never do anything differently because it shaped the life I'm living. I met my wife at the Albertsons off Parkcenter Blvd and witnessed my listeners save our son's life at St. Luke's Children's Hospital. My wife gave birth to both of our children at Saint Alphonsus, and I belong here.
Happy Veteran's Day to everyone who served and continue to protect our freedoms right here in Boise out to Caldwell. Mountain Home Airforce Base, Gowen Field, our local recruiters, and everyone else who wears that uniform, thank you.
LOOK: 100 years of American military history