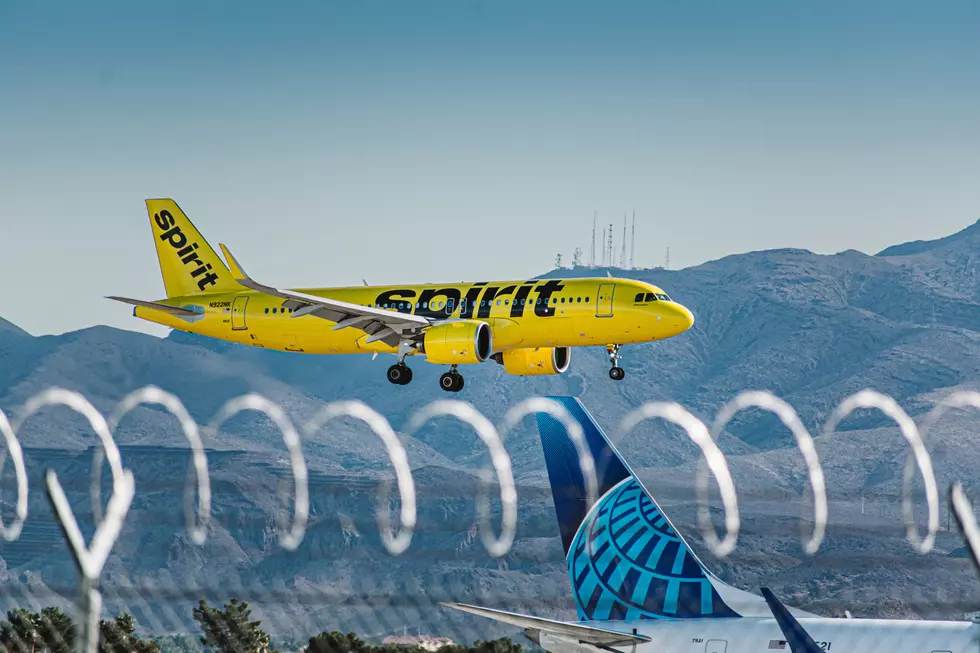 Spirit Airlines Starts Service From Las Vegas To Boise
Photo by: Lukas Souza on Unsplash
Flying the friendly skies is about to be a little more friendly--on your wallet. Spirit Airlines has started a new non-stop route between Boise's Gowen Field Airport and Las Vegas' Harry Reid Airport.
In addition to the announcement, Spirit donated $20,000 to a local non-profit organization. This is going to be great for getting out of town and experiencing Vegas on a budget...if there is such thing, of course.
A ribbon cutting ceremony was held Friday August 5th at Gowen Field Airport marking the official launch of a Las Vegas to Boise flight.
According to reports, the route will be operated daily aboard an Airbus A320neo. This is a major development as the new flight will connect two of America's fastest growing cities. Many officials representing both the airline and local government were in attendance for the ceremony.
Boise Metro Chamber President and CEO Bill Connors was in attendance and had this to say, "It's interesting to see over the last few years just how many airlines have realized Boise is the fastest growing city in the country, and they need to be here."
"It's great to see Spirit here and yes, it's fun to have a connection to Las Vegas if you want to go to Vegas, but Vegas is also a major airport hub. So, you can get from Vegas to almost anywhere else in the world through this particular route."
The hype isn't just happening here in Boise. Officials in Las Vegas were just as excited about the new route from Spirit. The Vice President of Marketing for the Las Vegas Convention and Visitors Authority, H. Fletch Brunelle, shared his excitement stating, "The addition of these new flights is extremely exciting as we welcome visitors to explore all that's new in the sports and entertainment capital of the world. From stunning new resorts and meeting spaces to spectacular new entertainment offerings and the most anticipated international sports special events, Las Vegas continues to flourish."
Donating To Charity
In addition to the new flight, Spirit Airlines donated $20,000 to Global Gardens, a local non-profit. Global Gardens supports local immigrant and refugee farmers that come from diverse backgrounds. It provides more than 100 garden spaces to be worked on by these farmers. The donation is not only a gesture of goodwill, but also shows that Spirit is committed to being a part of our local community.
Rabiou Manzo, the Global Gardens Program Manager, thanked Spirit for their generous gift saying, "It creates a win-win by helping farmers take their careers to the next level while giving the local community more access to fresh produce. For almost 20 years Global Gardens has provided training and resources to refugee and immigrant farmers, allowing them to continue farming as they rebuild their lives here in the US. Several of our farmers grow ethnic produce from their home countries that otherwise wouldn't be accessible to local buyers."
It's great to see that we now have better access to the rest of the country, and an investment in our community all in one. This is something to look forward to!
Looking to getaway soon? Here are some cheap vacations out of Boise!
6 Vacation Destinations Boise Residents Can Fly To For Under $100
We all know that Boise, Idaho is one of the greatest cities in the country to live in. The secret is out and thousands are moving here. But even those of us who LOVE this city need a little time away and these cheap flights out of the Boise Airport could make your next vacation much more affordable!
25 Nonstop Flights from Boise
Here are the nonstop destinations that you can get to without changing planes from our airport.
Five Upgrades that Boise's Airport Needs Immediately
Yes, we love our amazingly clean and quick Boise Airport but that doesn't mean that we don't have some ideas on how to take it to the next level. Can you think of any better upgrades than these?