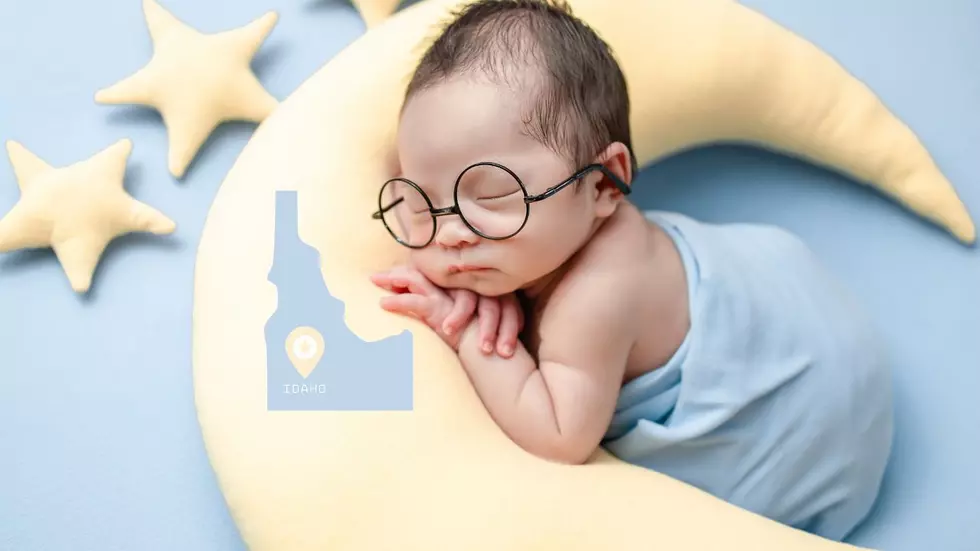 Incredible Idaho Inspired Baby Names For Your Little Bundle Of Joy
Photo by: Cort Freeman on Canva
So, you're expecting a baby...but you can't agree on the name. All the family names have been used. Your sibling just named their dog the name you were going to use. Or, maybe the names you loved no longer have that shine that they used to.
If you're looking for a unique name for your baby, a baby book may not be the best place to look. That' where all the other expecting parents are looking. Why not just look around where you live. Find an Idaho inspired name for your little bundle of joy.
You want the name to have a special meaning, why not pick something from the state you call home? Some of our cities in Idaho have great names. Same with the waterways. Even historical figures.
I put on my thinking hat and created a list of 10 Idaho inspired baby names. I've got 5 for baby girls and 5 for baby boys. Now, these are unique so maybe they aren't for you. However, maybe they can help get you thinking along the right track.
After we go over some Idaho inspired baby names, let's get more specific with Boise inspired names. I'd love for your baby to have a one of a kind name that means a lot as an Idahoan. We don't want him being one of three kids in class with the same name. Let's get creative!
After we go over those names, let's cover the names you should not be thinking about. We'll go over the least popular baby names in 2022. These are the names that aren't being used as much any more compared to last year. It may be due to a trend in pop culture, or totally random.
Let's get to the names! Here are 10 creative Idaho inspired names for your baby.
Idaho Inspired Baby Names
Find inspiration from Idaho for your baby's name!
Which one was your favorite? I really like all of those. Honestly, I would consider every one of those names. I think it's cool to be extra unique with the name of your child.
Now that we've covered the whole state of Idaho, let's get more specific. Boise is the biggest city in Idaho and there are a lot of great namesakes to be found around town.
Here are the best Boise inspired baby names. We'll cover street names, historical figures, and more. Some of these may be unheard of, but I think that makes for a great name. You don't want your kid having to add his last initial to his name so he or she can be properly identified in class. However, you also don't want a name so unique that it ends up being weird and they get picked on. Kids can be brutal. However, I'm pretty proud of these and think I'm onto something here.
Stick around after the list of the best Boise inspired baby names so we can go over the least popular baby names of the year and why you should avoid picking those names for your tiny one.
Best Boise Inspired Names For Baby Girl
Are you expecting a baby girl but don't know what to name her? Yes, you could look in a baby book. There, you'll find all the same names all of your friends and family were looking at when they were looking for baby names...in that same baby book.
Why not get creative? Maybe you live in Boise and want to show some pride for your beloved city. You know, there are some names around with significant meaning in Boise, Idaho that you could use for inspiration when naming your baby girl.
Here are 10 Boise inspired baby names for your little girl.
Best Boise Inspired Names For Baby Boy
Congratulations! You're expecting a baby boy! But, you can't land on a name for the little guy. You could pick a name of your favorite athlete or movie star, maybe even a family member or friend.
Or, you could name him after the city that made you. You want to find a Boise inspired name for your boy. Here are ten creative names that will work great for what you're looking to do. They're catchy names and they pay homage to the beautiful city of Boise.
Let's hear it for the boys!
Now that we have gone over the best baby names. Let's cover names that experts say you should avoid, if you want to pick a popular baby name.
These are the least popular baby names in 2022, according to experts.
Are The Least Popular Baby Names In 2022 Common In Idaho?
These names are less popular this year than they previously were.
30+ Worst Baby Names to Ever Come Out of Idaho