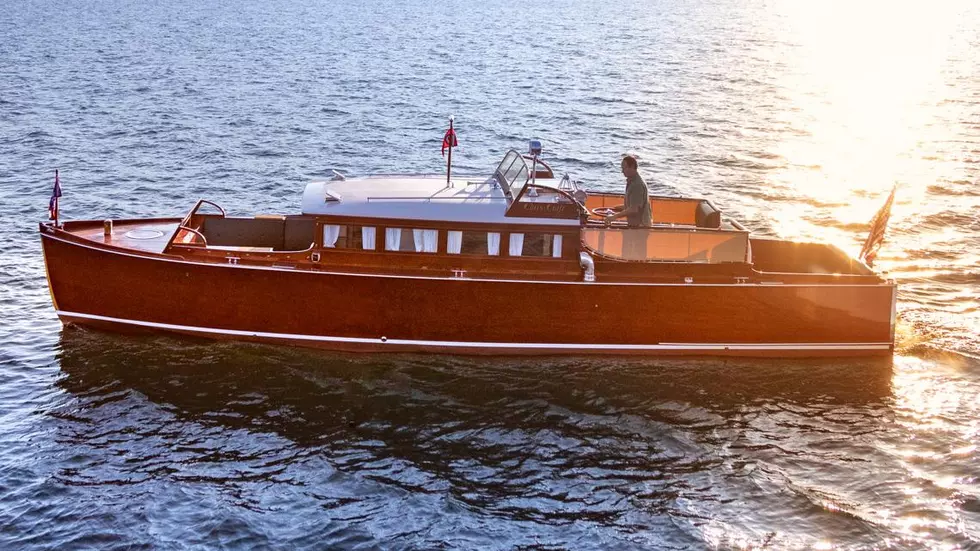 Photos of Stunning 1929 Restored Yacht For Sale in Coeur d'Alene
Credit: Hagadone Marine Group
Meet Willow, a 38-foot wooden yacht. Originally built in 1929 and was Chris-Craft's first ever Commuter Cruiser. The gorgeous vessel can handle 12 passengers comfortably. Coeur Custom in Coeur d'Alene, based out of Hagadone Marine Group took their time to get every detail right with this stunner. It was a 14-month restoration in total and the hard work and dedication shows in every photo.
Enter your number to get our free mobile app
"This is the true definition of a wood boat," said Jim Brown, master craftsman at Coeur Custom who led Willow's restoration. "Each boat that we build, that we work on, that we restore, has its own personality. They have a character to them; they speak to you. She is a living, breathing, beautiful lady. If you take care of her, she'll take great care of you."
Willow, formerly known as Althea, was restored to the highest of standards with no expense spared —  it took $300,000 and over a year of dedication. All eight craftsmen with Coeur Custom worked together on the project. They were even able to restore most of the original vintage features. The cabin is made of mahogany and the hull is mahogany on oak. It includes seating for 12 passengers in the forward cockpit, bridge deck and aft cockpit.
The Chris-Craft Commuter was first launched in 1929 for its owner, businessman William F. Ladd of New York City, and has since earned the nickname "Queen of the Fleet." The yacht has won prestigious awards in five major Pacific Northwest wood boat shows. Jerry Gilbreath, a nine-time world offshore champion and holder of more than 25 speed records, is selling the wooden yacht. Those interested in learning more about Willow are encouraged to contact Hagadone Marine Group by phone at (208) 664-8274 or online.
KEEP READING: What were the most popular baby names from the past 100 years?