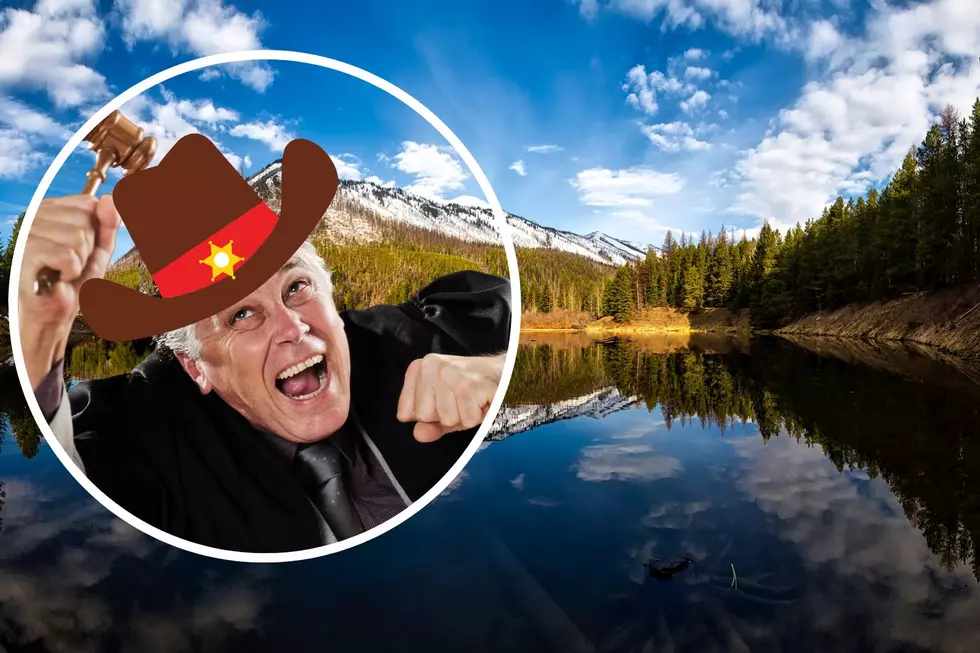 More Crazy Montana Laws You Need to See to Believe [PICS!]
Photo Credit: Canva Images
MORE TO

 

montana
Before we dive into Montana laws that are one sandwich short of a picnic, let's express what Idaho adores about our neighbor southwest of us!
One of America's Great Plains and Rocky Mountain states, Montana's sparse populous is known far and wide. According to theFactFile, 46 out of Montana's 56 counties average just six residents per square mile. This makes the 'Treasure State' one of the most rural states in the nation.
MONTANA'S
crown jewel
Billings is the crown jewel of Montana's urban scene! The largest city in the state, a 2022 World Population survey reports Billings is home to 119,706 residents. Helena, the state's capital, has somewhere around 75,000 residents, making the municipality Montana's second most populated city.
A culture with a storied history that's steeped in tradition, iExplore shares:
Ranchers, cowboys, and horses play a big role in Montana's culture, as does its rich Native American past [that's] been enjoying a revival in recent years.
Wild and free, Montana still embodies the spirit of the pioneers. From its rich mining and ranching history, to its vast outdoor playground that's peppered with adventure and cowboys, 'Big Sky Country' has something for everyone.
If the state's preference for independence intimidates you, iExplore assures folks that Montana natives are terrific hosts! They love sharing their state's wonder and beauty.
---
FAST
facts
NICKNAMES:

'Big Sky Country' & 'The Treasure State'

STATEHOOD:

41st state as of 1889

STATE BIRD:

western meadowlark 
MEANING:

the state's name is Spanish for 'mountainous'

WILDLIFE:

grizzly & black bears, bighorn sheep, bison, bald eagles, etc.

RESOURCES:

petroleum & talc
FAMOUS FOODS:

Cream of the West oatmeal

FAMOUS RESIDENT:

Evel Knievel

HOME OF:

Yellowstone National Park, the world's first national park
Keep scrolling for a gallery of Montana's most wild and crazy laws!
16 of Montana's Wild & Crazy Laws 😍
✔️ FYI: 'Big Sky Country' is big on crazy!
🤠 Surprised? So were we. After all, who expects a state with famously conservative politics and traditional values to have such colorful, crazy-@$$ laws?
💗 PS, it bears repeating that Idaho loves Montana! The Gem State's neighbors to the southwest mirror our own penchant for
bizarre laws
and
quirky customs
!
Washington Is Like the Pacific Northwest's Weird Uncle 🙃
🤪 Of all the crazy gin joints in the Pacific Northwest, Washington state is by far the strangest! Laws in the Evergreen State are so weird, it's difficult to believe they're real. And yet they're so very, very real!
🤳🏽 Scroll through the gallery below to gain an entirely new perspective on Washington's legislation. We promise you there's nothing like it anywhere else around here.
Idaho Has Crazy Neighbors: Weird Laws in California & Utah [gallery]
Scroll on for a gallery of laws in California & Utah that range from the entertaining to the ERMERGERD.
TRUE OR FALSE: Can You Guess Which Idaho Laws Are Real?
Let's see how well you do at guessing which of these silly laws are true and which are false.
The Top 8 Changes Boise Drivers Want In 2023
They're not real, they'll likely never happen, and they're downright outrageous. Locals share the driving laws they want to see go into effect in the great state of Idaho.
Is It Really Illegal to Drive Barefoot?