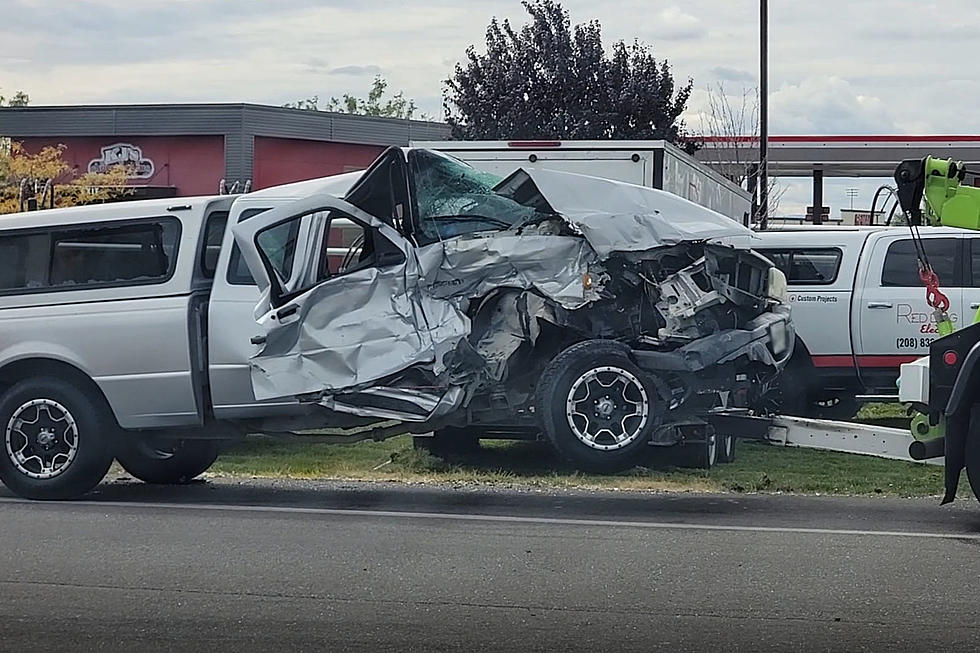 Massive Crash This Afternoon at Meridian and Deer Flat Rd in Kuna
Parker K.
Kuna, Meridian, and Boise residents were met with a chaotic scene this afternoon at the busy intersection of Meridian and Deer Flat Road, where the posted speed limit is 55mph. A massive accident involving multiple vehicles, including trucks and trucks with trailers, brought traffic to a standstill.
The stoplight at the intersection was blinking red, and the presence of six or more police vehicles indicated the gravity of the situation. Ada County Sheriff's deputies were on hand to direct traffic as first responders worked tirelessly to clear the scene.
Emergency vehicles like ambulances and fire trucks had already departed by the time photographs were taken, but there was a dedicated road cleanup crew, tow trucks, and law enforcement still on the scene.
In one corner, a trailer was tipped over in the grass area by the KJ's gas station, and one truck appeared severely damaged and was in the process of being loaded onto a tow truck for removal. Though the exact details of the incident are still under investigation, local authorities are urging caution and safe driving practices within the community.
Our thoughts are with those involved, and we hope for a swift recovery for anyone affected by this accident. We encourage all residents to stay safe on the roads and exercise vigilance while driving, ensuring the well-being of themselves and others in the Treasure Valley region.
By following driving rules, staying alert, and being more compassionate on the road, we can help reduce the amount of tragic accidents in the Treasure Valley.
Top 15 Counties in Idaho with the Most Car Crashes
Gallery Credit: Parker Kane
10 Things Guaranteed to Give Boise Drivers Road Rage
Counties in Idaho with the Top 5 WORST Commute Times
Gallery Credit: Parker Kane
TRUE OR FALSE: Can You Guess Which Idaho Laws Are Real?
Let's see how well you do at guessing which of these silly laws are true and which are false.
Gallery Credit: Chris Cardenas