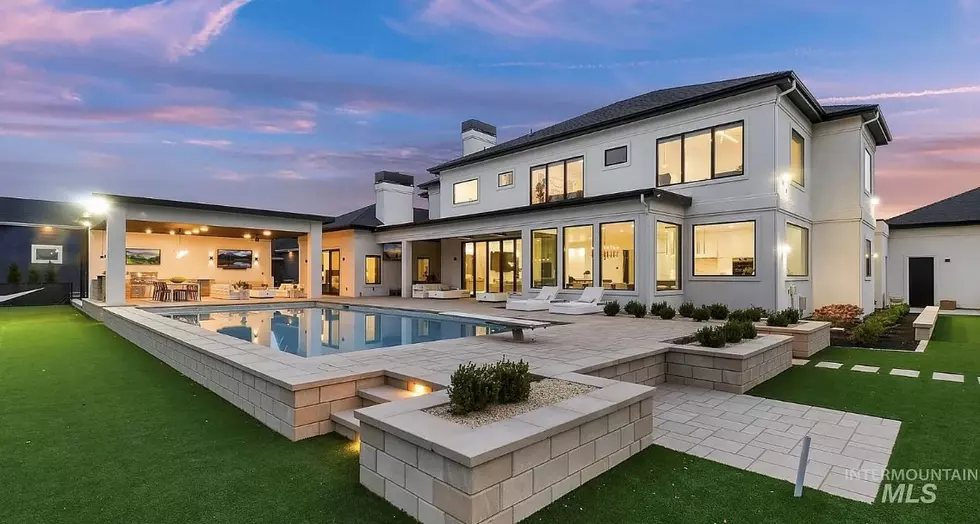 Stunning $4.3M Eagle Home Has an Incredible Outdoor Sportsplex [PICS]
Photo Credit: Piers Lamb - Homes of Idaho // Zillow
Eagle, Idaho
Is living in one of America's wealthiest, most beautiful cities on your life's to-do list? Maybe you're in the market for a home that champions healthy, inspired living?
Whether you fall into either camp or neither, this stunning $4.3 million-dollar listing in Eagle, Idaho could be exactly what you're looking for!
Incredible Interior
Incredible, intentional design features are showcased throughout the home's interior! Piers Lamb of Homes of Idaho, the property's listing agent as well as Aaron Paul's realtor, perfectly captures the property's charm on Zillow.
On the home's exquisite aesthetics, he writes this "elegant and modern Energy Star rated home offers clean lines, modern finishes, intentional spaces, [and] an abundance of light." Our thoughts exactly, Piers.
Exquisite Exterior
The Sugarberry Street listing boasts an exquisite exterior with spectacular views and  fitness opportunities. We could spend days marveling at this home, but its most interesting facet took us by surprise.
The 2021 6,465 square-foot Modern French Chateau features a professional, private soccer field! Making it even more spectacular is its juxtaposition to an amazing sport court. The complex features an in-ground pool, putting green, batting cage, and a tennis court!
BONUS: The home that has it all is within walking distance of downtown Eagle's restaurants, shops, parks, and schools!
Piers Lamb, Aaron Paul's Realtor
This isn't the first time Piers Lamb of Homes of Idaho has dazzled us with his listing wiles! The real estate guru recently sold the historic and locally celebrated home of Idaho native Aaron Paul.
Paul, the co-star of the critically acclaimed Breaking Bad television series, previously owned a Boise home built by Art Troutner. The unique design of the 1950s home was inspired by Frank Lloyd-Wright, a master American architect known for creating the "Prairie Style" aesthetic.
A stunning expression of midcentury modern design, Paul's breathtaking "Klein House" is a work of art. To view a gallery of Paul's beautifully photographed former residence, click here!
Hello, real estate-lover! Scroll on for a gallery featuring the stunning $4.3M home on Eagle's West Sugarberry Street. 
Stunning $4.3M Eagle Home Has an Incredible Outdoor Sportsplex
🏠 If you're in the market for a stunning home in Eagle, Idaho, you've come to the right place!
📱 Scroll through our stunning gallery of the home that has it all. Exquisite design aesthetics lend this $4.3 million-dollar Eagle residence elements of grandeur accented with modern, chic fixtures.
💗 Love this home sweet home? Lucky for you, our team of local writers have quite the yin for fabulous real estate in and around Boise's Treasure Valley. Week after week, we share pics and insight on Idaho's most coveted and unique listings.
😍 If living vicariously through someone else's real estate conquests sounds like fun, you're in fantastic company! Right-click to tab and explore this
stellar '90s home on the Boise Bench
after you're done perusing this property!
Inside Aaron Paul's $1.3 Million Boise Home
The Frank Lloyd Wright-inspired home has a 360-degree fireplace and geothermal mineral spring. Take a look inside!
Idahoans & Fans Work To Figure Out Where Aaron Paul Lives
When it comes to Idaho celebrities, the list isn't TOO long--at least not compared to much larger states. There are the athletes like Kellen Moore or Kristin Armstrong and of course, there's Aaron Paul. Best known for his role in "Breaking Bad", Aaron Paul is a local guy that is never afraid to show some love back to the Gem State. Recently, an entire forum online sought to track him down...here are just a few of the suggestions.
That Time Olivia Newton-John Performed In The Boise Area
Check out Justin and Hailey Bieber in Idaho
28 Breathtaking Pictures from TV's Yellowstone Ranch
This popular show is filmed within driving distance from the Treasure Valley, and now fans can see what it's like to live like a Dutton by staying at the Yellowstone. Some lucky fans from around the country have been able to stay there recently, and their pictures are amazing. Special thanks to
Dr. Peter Kozlowski
,
Hannah Boon
, and
Chief Joseph Ranch
for allowing me to use these photos.