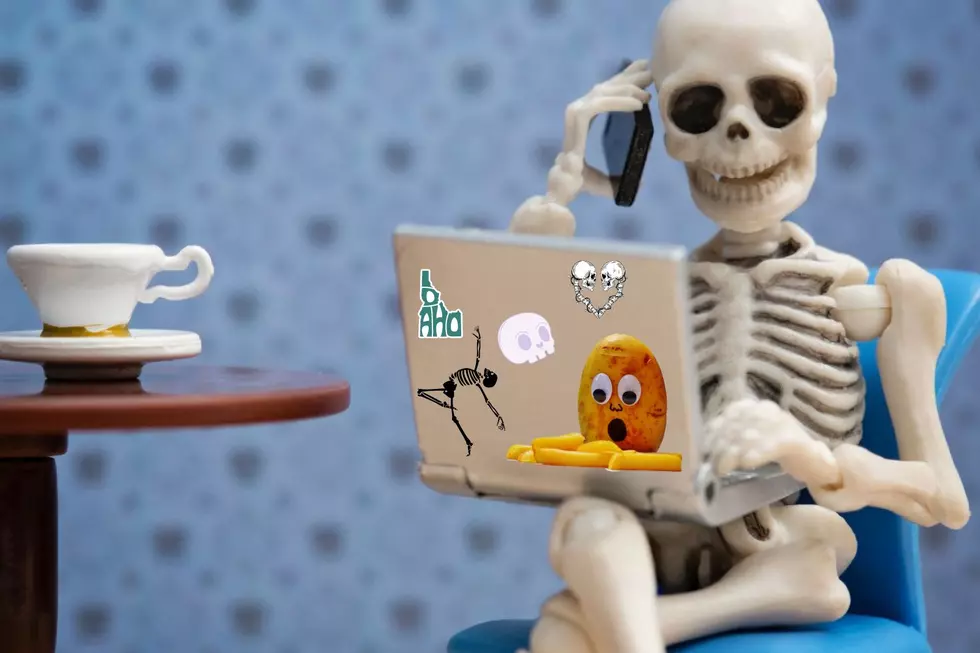 Buying And Selling Human Bones In Idaho Is Easy And Legal
Canva Pro Images // Ryan Valenzuela
Destigmatizing a Stigmatized Practice
Keeping scrolling to check out our gallery: Weird $#!t People Have Googled About Human Bones
Except for the fact that they sell human bones, JonsBones is an American family-owned business much like any other. Based in New York City, the company is committed to destigmatizing the legal preservation, collection, and commoditization of human bones.
We actively bridge the gap between the anthropological community and the general public to make osteology more approachable. -JonsBones
Interested? Apparently many are. You can learn more about JonsBones here, but our focus is Idaho's position on the possession and sale of human bones.
Human Bones Laws
According to The Bone Room, a curator for "natural products [for] educators, artists, collectors, and gift-buyers," it is 100% legal to possess and sell human bones not just in Idaho, but throughout most of the United States. Except for George, Tennessee, and Louisiana, human bones can be sold and shipped to every other state in the nation.
While Idaho law is careful to specify its protection of human remains within graves or those of Native Americans, none outlaw the possession and sale of those acquired through different channels. We referenced the following legislation:
Idaho Code 18-7028: "No person may unlawfully possess any artifacts or human remains taken from a grave or sell any human artifacts or human remains taken from a grave."
Idaho Code 27-502 - Procedures for Human Skeletal Discoveries in Idaho c. 2018: "Except as provided in section 27-503, Idaho Code, no person shall willfully remove, mutilate, deface, injure or destroy any cairn or grave. Persons disturbing graves through inadvertence, including by construction, mining, or logging, shall cause the human remains to be reinterred."
Idaho Code AS27-501 - Idaho Indian Burial Laws: "No individual may willfully disturb any cairn or grave or remove artifacts or human remains. After January 1, 1984, etc."
No Bones About It
That's the long and short of it. Idaho, like most states, has few restrictions regarding the legal possession and sale of human bones.
Scroll on for a gallery of peoples' oddest Googled questions on where, how, and if they can legally keep, buy, or sell human bones.
☠️ Weird $#!t People Have Googled About Human Bones
🎼 Billy Currington once sang, "God is great, beer is good, and people are crazy."
😳 Well, Billy, after looking up the legality of buying and selling human bones, we can officially attest to the fact that people are, in fact, crazy.
🤔 The gallery below features the weirdest $#!t people have Googled about human bones.
💰 From buying and selling them, to how they taste and artistic ways to preserve them, Google is a bottomless pit of morbid questions and curiosities.
😉 So have fun with that.
Joplin Cemetery: Idaho's Most Unique Burial Grounds
Joplin's Cemetery - Est. 1882 - Eagle, Idaho
"To the memory of the pioneer families who came to this valley in 1880. This sacred place is reserved and perpetuated as they found it. Dry and desolate, many were the hardships and privations endured. Dedicated to the spirit of the old timers and pioneers."
Scroll on for a unique tour of Idaho's most interesting cemetery!
Dead-Honesty: 1-Star Yelp Reviews of Valley Funeral Homes
8 Times Boise Crimes & Tragedies Broke My Heart