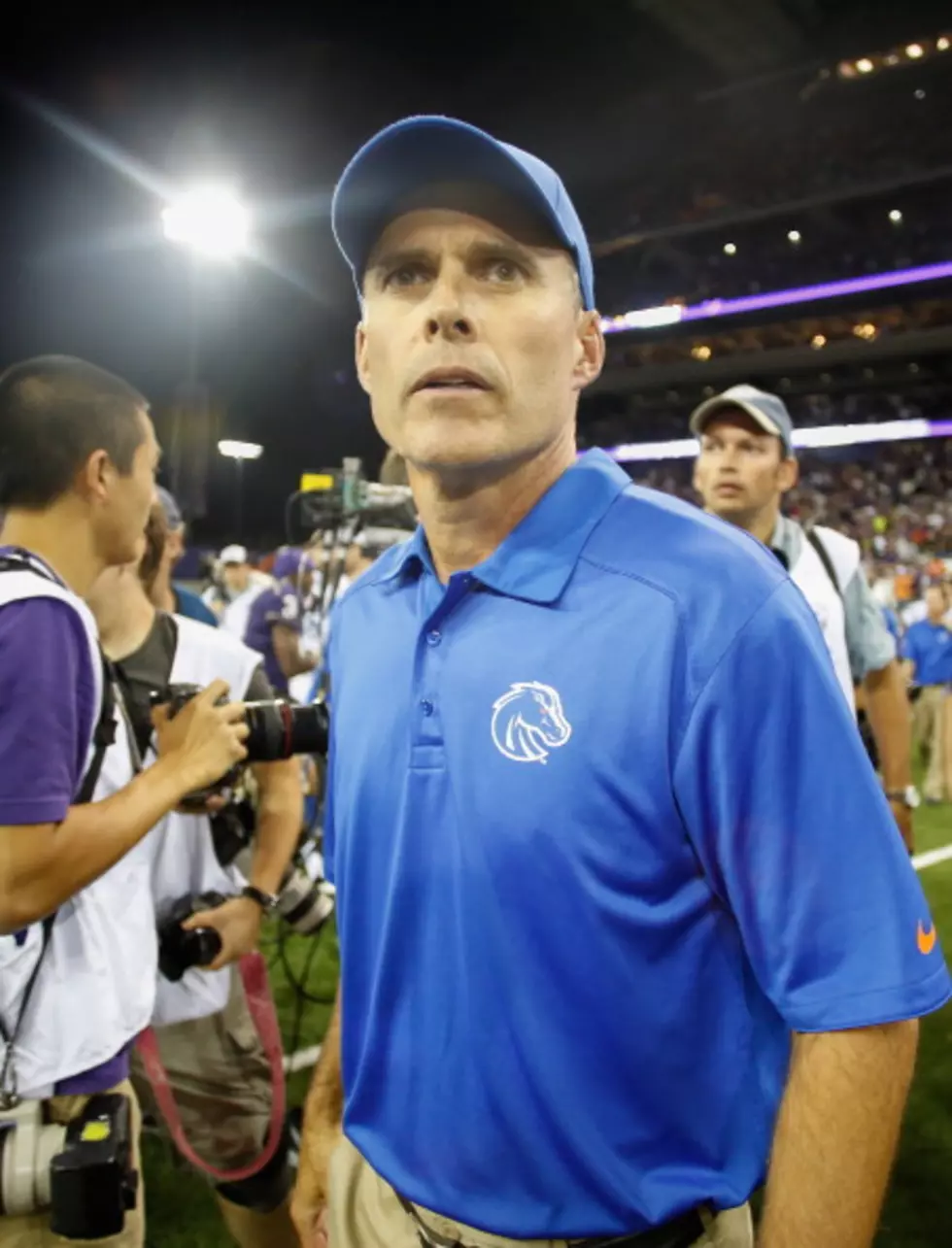 Open Letter To Former BSU Coach Chris Peterson
Otto Greule Jr / Getty Images
In the past week, I have seen blogs, tweets and Facebook posts about the loss of Coach Pete to the Washington Huskies.
 

Many, like me are sad, but respectful and wish him well.

 

However, a large number are mad, shocked, dismayed and can't believe he would do something like this to us.

 

Even though I am sad, I am so thankful for everything he did for BSU football and athletics in general.
Thank you!  You became our head coach 7 years ago, when you weren't even sure you wanted to be a head coach.  You took the challenge head-on and in your first year took us to an undefeated season and a win in the Fiesta Bowl over Oklahoma. To this day it is still seen on Big Screens in many area retail and furniture stores, and is arguably the best, or at least the most entertaining, football game I have ever seen.
You turned average fans like myself into super fans, who never miss watching a game, and even turned non fans like my wife into fans who not only came to know the names of the players, but also suffered the feeling of being punched in the gut with every loss.  You helped put Boise State on the national map as a football power, feared and respected. You gave us fans the best winning percentage in Division I college football over the past decade. You left with the cupboard full and the future looking bright with more than 50% of the roster being freshman or sophomores who saw considerable action this year.  You could have left last year, and left the rebuilding up to someone else, but you didn't.
It amazes me how your former players still views you as a teacher, a mentor and father figure.  You are famous for your mantra, "expect perfection, and accept excellence." You taught hard work on the field, in practice and in the classroom.  You taught your players to be responsible, once again not just with football, but in life, after football. I have seen many posts from former players about how you helped them to become not just better players, but better human beings.  We can all only hope that the next coach brings that same mentality to our program and not only continues where you left off, but grows the program and the young men who are lucky enough to play here, even more. 
Even though it hurts right now, and I will miss you and what you brought to BSU football.   I wish nothing but the best for you and your family.  I can't help but still be a fan, even though I won't be rooting for the Huskies, I will be watching and rooting for you, not because of your football program or how many wins you will have, but because of what you represent…and in my opinion, there is too little of that in NCAA football these days.
I look forward to the start of the 2015 season when the Huskies visit Boise State and you get to see just how hard it is to win as a visiting coach on the blue.
Thank You, Coach Pete, for what you did for the BSU football program, all the new facilities on campus, the young men you helped mold and every person who became a fan over the past 7 years. Good luck, and we'll see you again in 2015 on the Blue!