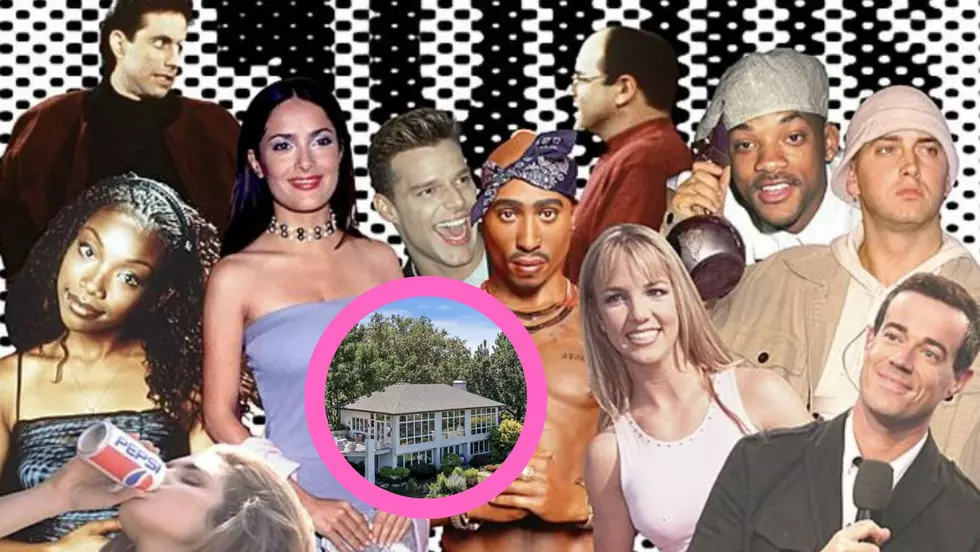 Delisted! Our Favorite, Oh-So-Totally '90s Boise Bench Home
Photo Credit: Angela Heasley - Group One Sotheby's Int'l Realty // Zillow // Canva
'90s
Nostalgia
Yo wazzzup, home skillet?! FYI, this article is stacked with hyperlinks to all things '90s! Click on any one of 'em for a blast from your '90s past!
The final decade of the last Millennium has people reminiscing and partying like it's 1999. From music and movies, to fashion and pop culture, 2022 is rife with hella cool '90s nostalgia with no signs of stopping.
As OG '90s teens, we could probably spend hours explaining our love for the scrunchie era better than Clarissa herself could. This is why it comes as no surprise that a certain home for sale in Boise stole our hearts.
Treehouse
Elegance
Built in 1994—the same year Justin Bieber was born, FYI—the minimalist homestead has what Photowall describes as a "back-to-the-basics" vibe. We, however, liken the 28-year-old Boise Bench residence to the lovechild of Marie Kondo and The Treehouse Guys. The unique design is perfect for fun-loving nature enthusiasts who appreciate simple elegance...and beige. Oh, so much beige.
The

411
3,366 square feet
3 beds, 2.5 baths
Residential/Single Family Residence
Attached four-car garage
Auto sprinkler system
Accented with lush, highly manicured landscape
45-acre property
Deck designed for entertainment
2019 upgrades include:

new roof
Bosch kitchen appliances
quartz countertops in owner's bath & guest bath
epoxied garage floor
Hardwood & carpeted floors
Appliances: dishwasher, refrigerator, washer, & dryer
Gas insert fireplaces
Floor-to-ceiling windows boast views of Downtown Boise & the Boise Foothills
12-foot ceilings create an open, more luxurious living space
Owner's suite features walk-in closet & spa-like bath with dual vanities
Up Next:
50 pics that are all that and a bag of chips
Are you in the housing market and looking to buy in the Boise area or the Treasure Valley? Maybe you're a '90s enthusiast with a yin for home design? Whatever the case, scroll on for 50 fly pics of a totally '90s home for sale on the Boise Bench!
😍 SOLD! A Boise Bench Home Straight Out of the '90s
From
music
and
movies
, to
fashion
and
pop culture
, 2022 is rife with
hella cool
'90s nostalgia with no signs of stopping. Its latest conquest is the 2022 housing market and home design! Droves of prospective homebuyers in Idaho and around the country are searching for the back-to-the-basics vibe of '90s home design.
This is why it comes as no surprise that this '90s Boise Bench home listing stole our
hearts
. Scroll through our gallery of pics for a trip down memory lane. Could this '90s house become your next Boise home?
PS, We probably had a little too much fun with the captions, but whateverrr!
Just Listed: Here's What 1.5M Gets You In Idaho, Utah, Washington & California
Just listed! Scroll through our
Zillow
gallery to see the kinds of homes $1,000,000 to $1,500,000 secures in the Idaho, Utah, Washington, and California housing markets today.
[SOLD] $74,950 Foreclosed Home For Sale In One of Idaho's Most Beautiful Cities
Shoshone County's cutest foreclosure is looking for its forever family!
The Treehouse In This Pacific Northwest Home Is Better Than What I Live In
This Pacific Northwest home truly has it all. It's a blend of styles from Seattle and South Beach. My three favorite features in this home?
The Treehouse (better than my house)
The Cinema (crazy!)
The Play Area For Kids
LOOK! 6 Powerful Examples That Prove Anyone Can VRBO Their Home
More than most realize, Vacation Rental By Owner's/VRBO's aren't mutually exclusive with million-dollar, over-the-top properties.
The reality is that hosting a cozy and comfortable vacation rental doesn't have to cost a fortune. The following 6 Boise area vacation rentals prove anyone can VRBO their home to for profit during hard economic times and beyond. If you're interesting in renting one of the properties, we're sure the hosts would appreciate your business! For your convenience, each image is linked to its original VRBO listing.
Get inspired! This gallery features top-to-bottom photos of nice and normal homes that made the switch to vacation rental! If we convince you to list your property, you can register your home with VRBO.com on the final image.