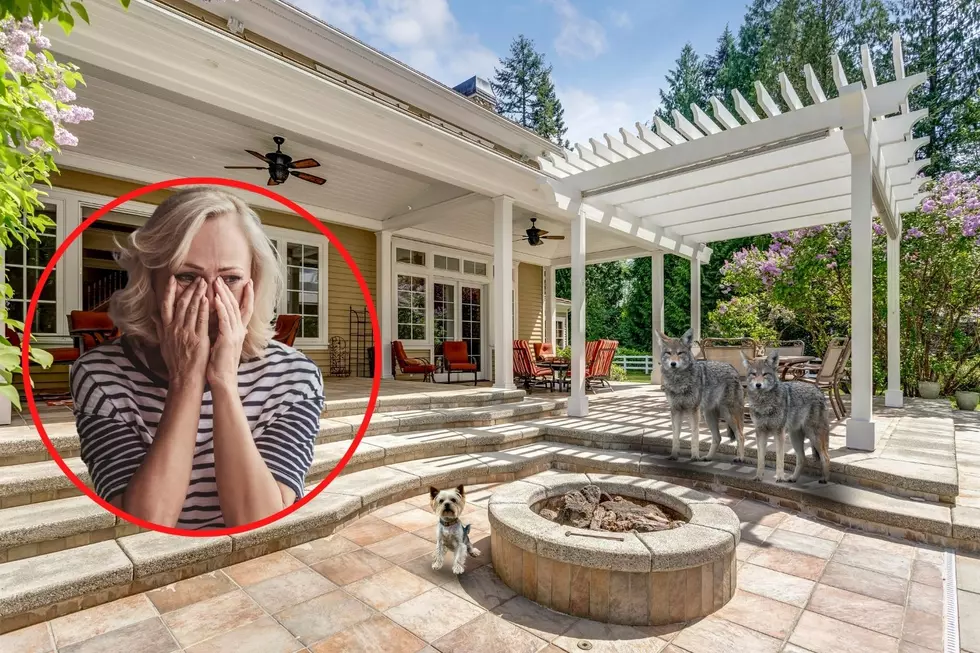 Boise Woman Screams As Coyotes Eat Her Small Dog
Photo Credit: Unsplash // Canva
COYOTE ugly 
Boise, Idaho (2022). She was checking on her 10-year-old Westie through the patio blinds like she'd done a thousand times before. As usual, her sweet girl was asleep and basking in the Idaho summer sunshine.
Everything was fine.
As she turned to step away from the patio doors adorned with the Westie's latest nose art, a shadow caught the corner of her eye. Then a second one.
FOOD fight
Before she could grasp what was unfolding, two coyotes appeared on her East Boise patio, stirring her furry girl awake.
Disoriented and shaking, the Westie hadn't mustered a single squeal when the predators snatched her by the front and hind legs. For a moment, the thought the coyotes looked liked family dogs engaged in a round of tug-of-rope. But, no.
It was a food fight.
This is a secondhand account of a tragedy experienced by our teammate's family.
---
CAUTION and coyotes
In Nov. 2022, East Idaho News reported a warning issued by the Idaho Department of Fish & Game. The IDFG advisory instructed local homeowners, pet owners, and outdoors enthusiasts to exercise greater caution mid-way through coyote mating season. IDFG further reiterated:
Coyotes are classified as predators in Idaho law, and there is no restriction on killing them. You do need a valid Idaho hunting license. -Ask Fish & Game

 
6 TIPS TO REDUCE ENCOUNTERS WITH IDAHO predatory wildlife
FOOD. Do not feed wild animals, directly or indirectly. Once a wild animal becomes dependent on you to provide food, they can become aggressive if you stop feeding them.
TRASH. Secure it! Overflowing trash cans are calling card for wild animals. If trash overflow prevents you from closing the lid, put your can on the curb in the morning for collection.
BRUSH. Keep your property clear of overgrown, unkempt brush. Both predators and pray are known for hiding in bushes, hedges, and tall grass.
CRAWL SPACES. Whenever possible, seal crawl spaces for decks, patios, sheds, and your home.
BIRDS. Rethink your bird feeder. From mountain lions to bobcats, coyotes, and more, bird feeders attract trouble.
PETS. Keep your pets insight and indoors at dusk and during coyote mating season. As illustrated by the example above, one Idahoan's loveable pet could become a predator's next meal.
Keep your kids, cats, and dogs close! Coyote mating season in Idaho starts mid-Jan. and runs through Mar. To report a wildlife predator sighting, contact the Idaho Department of Fish & Game headquarters directly by phone at (208) 334-3700, or visit the IDFG website to explore additional resources.
The Boise Greenbelt Is Home to These 10 Wild Animals, Be Prepared
If you're on the Boise Greenbelt, especially along the river, don't be alarmed if you run into any number of these wildlife.
11 Random Facts About Idaho That You Probably Didn't Know
Even the most die-hard Idahoans will probably get most of these wrong...
8 Helpful Things to Consider Before Getting a Dog in Boise
So many dogs are surrendered every day because they end up being too much of a commitment... If you're considering adopting a dog, read this first!
10 Shocking Things About Idaho
10 unique gems of our great state!