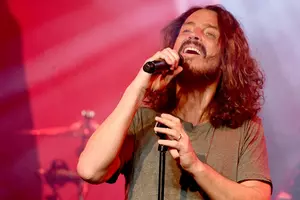 Boise Concert Focuses on Suicide Prevention
Kevin Winter, Getty Images
Rocker Chris Cornell died May 18th in Detroit, and that untimely death triggered action by a Boise group that wants to raise awareness about suicide prevention.  They'll host a benefit concert Wednesday night, June 28th.
Wednesday's concert will be free, but donations will be encouraged at the door. You'll get to see local bands perform who consider Chris Cornell to be an influence, and who want to do something positive after his death to help those struggling with thoughts of suicide.
Here's the lineup, according to the event's Facebook page:
Doors open at 7pm.
7:30-7:55 Critical Hits
8:05-8:30 Dan Costello
8:45-9:10 Red Light Challenge
9:20-9:45 Thomas Paul
10-10:25 Zack Quintana
And the venue:
Pollo Rey Mexican Rotisserie
222 N 8th St, Boise, Idaho 83702
Proceeds from the show go to the Boise All-Ages Movement Project, and the Idaho Suicide Prevention Hotline.