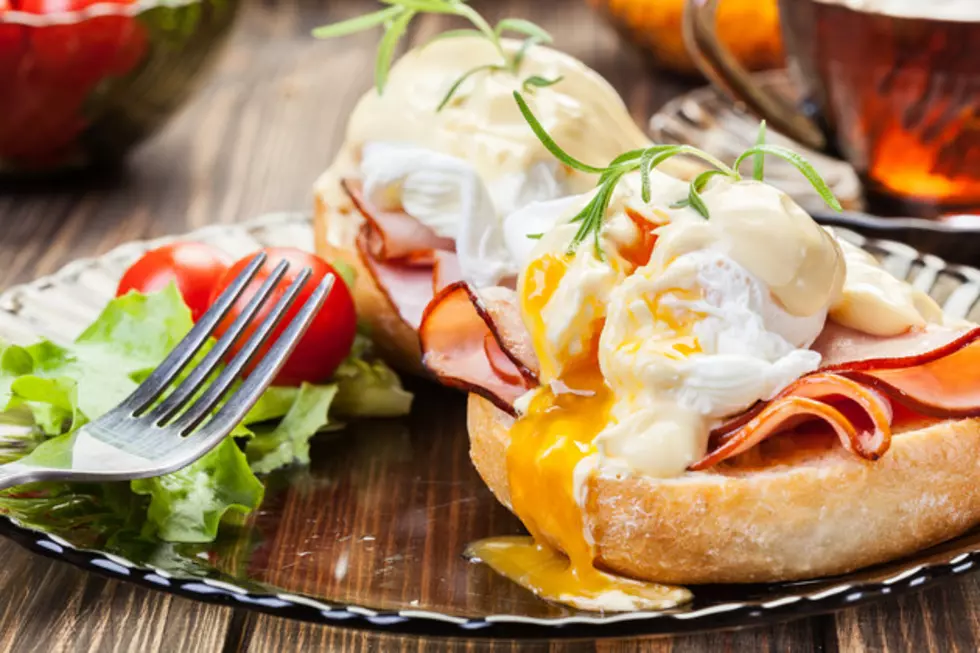 Where to Take Mom for Mother's Day Brunch in the Treasure Valley
Credit: fotek, Thinkstock
Mother's Day is Sunday..the worst thing you can do is forget Mom, so to help you out, here is a whole list of Boise area options for Mother's Day, Brunch, Breakfast or dinner this Sunday
Bella Aquila 775. S. Rivershore Lane in Eagle,
Bella Aquila offers a brunch every Sunday and in addition to regular menu items there well be specials for Mother's day. 9:30 a.m. to 2:30 p.m. Bella Aquila also has an awesome outdoor patio that sits along the Boise River, so weather permitting you and mom can enjoy a great outdoor view.  Reservations are required and when I checked, they were almost fully booked, but there may still be a few reservations available. 208-938-1900.
Chandlers Steakhouse 981 W Grove Street in Boise
Chandlers is opening early (1pm) and is supplementing its regular menu with a three-course Mother's Day meal for ($43 per person) Reservations for 1-8 p.m. are being accepted with a portion of the proceeds from the meal to benefit the Women's and Children's Alliance! Start the meal with your choice of Lobster Bisque Soup, Soup, Mixed Green  or Wedge Salad, then pick one of six amazing entrees and your choice of. Reservations are suggested and they are filling fast.  208-383-4300.
Emilio's at The Grove Hotel, 245 S. Capitol Blvd. in Boise
 Emilio's offers a brunch buffet ($38 adults, $34 seniors, $16 kids) from 10 a.m.-2 p.m. Expect a big seafood spread including king crab legs, poached jumbo prawns and more, including a carving station with prime rib and maple-glazed ham, alongside assorted side dishes, salads and desserts. There will be an omelet bar and Belgian waffle bar as well, along with other breakfast offerings....When I talked with Emilio's, I was informed that they were almost completely sold out for their Mother's day brunch
Lucky Fins   Downtown at Boise Center & in Meridian at Eagle and Fairview
In addition to the regular menu both Lucky Fins Seafood Grill locations will be offering Mother's day special menu items. Enjoy Fresh Alaskan Halibut, over red quinoa, roasted corn salsa, shaved red onion, grape tomatoes and fresh avocado with a cilantro lime drizzle. Or choose the Scallop and Ahi..Butter seared jumbo scallop with coffee and ancho crusted center cut Ahi tuna with cauliflower puree, grape tomatoes, roasted cauliflower, fresh basil and a drizzle of chili oil. No reservations are required, but you might have a little wait during busy times of the day.
Eagle Hills Golf Course  605 N Edgewood Ln, Eagle
I know Eagle Hills is a golf course but don't let that fool you, Eagle Hills is known to have some of the best food in the Treasure Valley on their breakfast buffet…the food here is always awesome with a seafood bar and carving station. They're also serving up breakfast along with salads, breads, confections and sweets! The best part? Your first glass of champagne or a mimosa is included with your reservation fee! Click here for an example of what they serve. Make reservations by calling 208-939-0402
Bardenay at 610 W. Grove St. in Boise and at 155 E. Riverside Drive in Eagle
 Both Bardenay locations in downtown Boise and Eagle, will have brunch buffets ($29.95 adults, $14.95 children 4-12, 3 and younger free) from 10 a.m.-2 p.m. That price includes either a mimosa, a glass of OJ, coffee or a soda. The buffet features a prime-rib carving station, omelet bar, shrimp cocktail, waffles, specialty cheeses and desserts, thick-cut bacon, chicken wings, salmon, assorted potatoes, asparagus and hollandaise, eggs, biscuits and gravy, ham and sausage and fresh fruit. No reservations are taken, but they say your wait won't be long. Boise number: 208-426-0538; Eagle number: 208-938-5093.
The Riverside Hotel  2900 W Chinden, Garden City
The Riverside offers a Grand Buffet every Saturday and Sunday with a huge menu and bottomless mimosas included with all brunch buffets! Don't really need to say any more…make your reservations at 208-343-1871
Saint Lawrence Gridiron | 705 W Bannock St, Boise
Saint Lawrence Gridiron offers a special Mother's Day menu in addition to a version of its regular brunch menu, from 9:30 a.m.-2 p.m. Moms will each receive a flower and chocolate.
Twigs Bistro and Martini Bar | 3690 E. Monarch Sky Ln, Meridian
Twigs located at the Village in Meridian, will feature a special Mother's Day brunch, where for $28.99 you can feast on slow-roasted prime rib, ham, salmon and all the fixings plus a chocolate fountain and mimosas! Reservations are recommended.
Jakers I 3268 East Pine Ave on Eagle Road in Meridian
Jakers offers moms a Prime Rib and Seafood brunch for Mother's Day. $39.95 for adults, $16.95 for kids 6-12 and $8.95 for children ages 2 to 5. Reservations are accepted and walk ins are welcome. 208-288-0898
Chateau Eagle I 176 South Rosebud, Eagle.
Interested in a three course luxury meal? Treat you mom to some fine dining at Chateau Eagle. Cost: $49 for adults, $29 for Children 10 to 6 and Children under 6 are $19. Make your reservations by calling 208-947-2840. Check out the menu here.
Hell's Canyon Winery I 18835 Symms Road, Caldwell.
Enjoy good eats, good wine and good music at Hell's Canyon Winery this Mother's Day from noon to five. The price includes a souvenir glass and wine tasting. Due to limited seating, please bring a blanket or chairs. Cost is $15 and you can make your reservations at Eventbrite
There are so many different places in the Treasure Valley just waiting to help make Mother's Day special for you and your family, hopefully these will give you a few ideas, just keep in mind Mother's day is one of the most busy days of the year for restaurants, because who wants to make mom cook dinner on her day, so be patient you my have a short wait at most restaurants who are featuring special Mother's day menus.