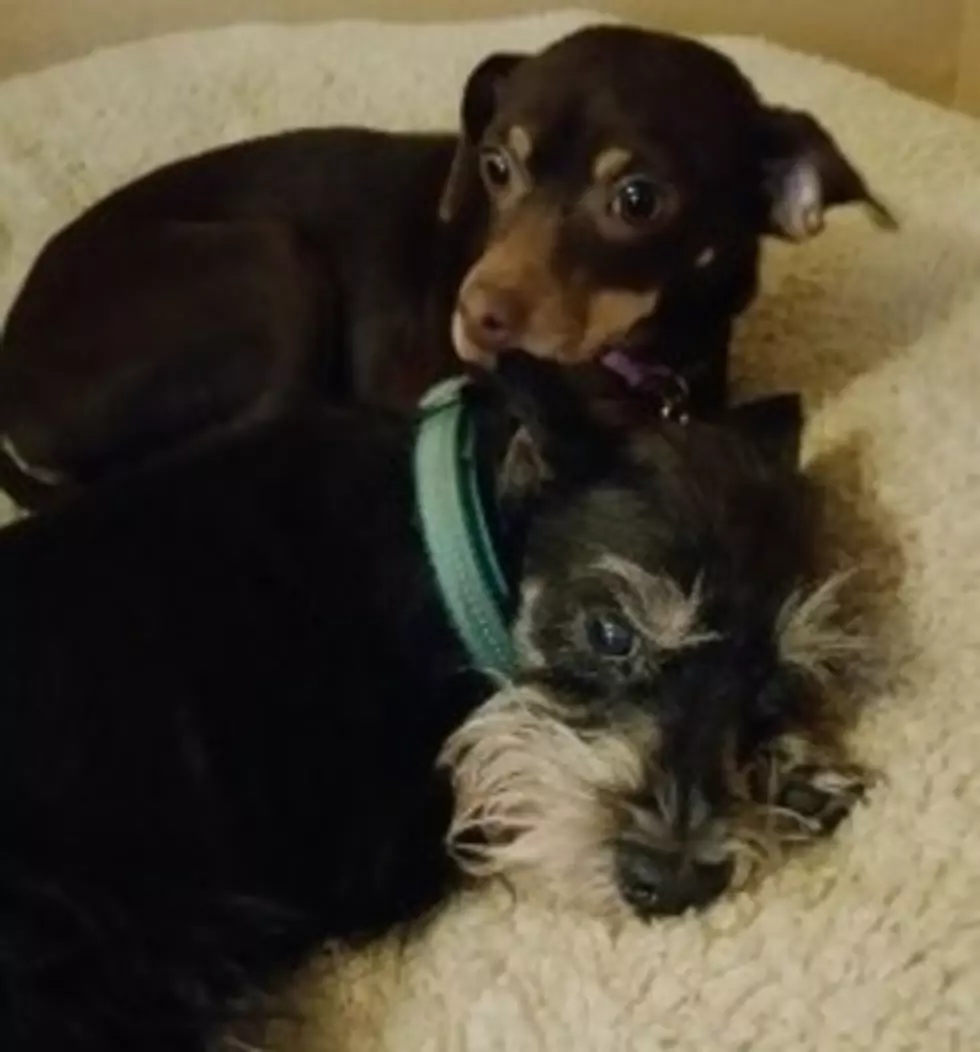 Update: Time To Say Goodbye to the Terminally Ill Dog
Jen Austin - Townsquare Media
Well, we've said goodbyes to our beloved mini schnauzer, Harry, after his battle with doggie cancer.  And there was a surprising twist in the story yesterday.
A few weeks ago I mentioned that we had discovered a lump under Harry's shoulder blade and another in his arm pit, and those turned out to be malignant.  Surgery wasn't an option because he would likely lose his leg, and that's just not pleasant for an old guy at the end of his life.  He's been on pain pills since the diagnosis to help with his comfort level, but those became less effective over the past two weeks, and in the past 24 hours I noticed a dramatic change in how he acted.  His breathing became hard, fast, and shallow, he seemed disoriented, he could barely stand up if the floor surface was not carpeted giving him something to grip, and he wobbled even when he was lying down.  He was way outside of any semblance of a comfort zone.
I had been wimping out about making the appointment with the vet to end the suffering, but it became obvious to me that it had to be.  I set the appointment for today.  And then Harry decided to go on his own, yesterday.
He crawled under an end table near the couch and sprawled out on the hard wood floor, stretched out his neck, and with that labored breathing seemed to flatten out and become totally out of it.  I left the room for a few minutes, came back to check on him, and he was gone.
I had to get my slightly shocked and numbed out self into the SUV right away to pick up the preschooler.  And I couldn't tell just one kid. I had to wait for all three to be together.  So the preschooler and I talked about recess and snacks and other highlights from the day, and all the while I had the big secret in my mind that poor Harry was lying there at home.  We picked up the 1st and 3rd grader and I broke the news to all of them on the way home.  Immediate tears and questions, and they wanted to hear the story about how I found him. We all hugged it out when we got back home, and sat with Harry until they were ready, and then we wrapped him up in his favorite Nebraska Cornhusker blanket and took him to the vet's office.  We'll get his ashes back in a few days, in a cute little lock box with his name on it.
Libby has been whining.  She's the dog left behind, and she has never been without him in her life and will need time to adjust.  She used to curl up so tight with him every day!  Harry became a little annoyed with her need to snuggle, but he tolerated it.  One of the good guys.  Should we get another dog to keep Libby company?
Doggie death is so hard, even when you know it's coming.  I believe in doggie heaven.  5-year old Piper put it best when she said with tears in her eyes, "Harry will be better with God."  Oh, those kids! Part of the pain of pet loss is trying to comfort them and explain that loss is hard, but life ultimately life goes on.   I fumble to find the words.  This weekend we're planning to go roller skating and to the science museum and to church and out for ice cream to celebrate Harry.  Life goes on.
Thank you Harry boy, for behind such a good dog.  We will miss you.