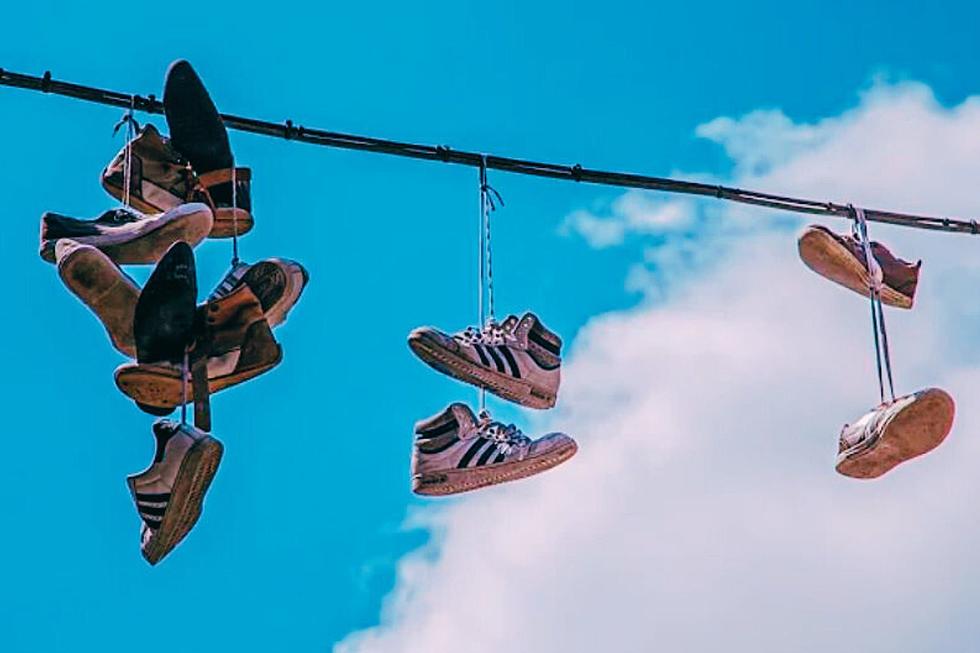 What Do Shoes Hanging from Idaho Powerlines Have to Do with the Moscow Murders?
CityXcape // YouTube
Interest in the obscure tradition of stringing sneakers from powerlines was spurred by a bizarre turn of events: the slaughter of four University of Idaho students. Nearly one year ago, Ethan Chapin, Madison Mogen, Xana Kernodle, and Kaylee Goncalves were murdered in their off-campus Moscow apartment on Nov. 14, 2022.
Following the tragedy, social media sleuths in Idaho and across the nation zeroed in on an eerie sight outside of the Vandals' residence: four pairs of sneakers dangling from the powerlines.
Speaking of shoes… irrelevant, but kinda creepy there are exactly four pairs of shoes hanging from the telephone lines in front of 1122 King on Google Earth street view.

-u/SunglassesAtNiite, Reddit
The top three theories behind the meaning of the shoes pertained to drug dealers, memorials, and local students celebrating their college graduation as articulated by the following Reddit users:
"No. It's for when a homie is killed, they would throw their shoes above where they were killed in remembrance." -Live_Introduction153
"Maybe friends put them [there] to remember them? Ever think about that [?]." -PresentMeasurement94
"Those sneakers are there from kids who graduated....[Xana] wrote [an] essay on those sneakers on powerlines....it's beautiful." -Open_Celebration_944
Google Street View data later determined the shoes were not a tribute to the slain students after all, but we still find the coincidence eerie. Because the shoe theories proposed in relation to the Idaho murders are remarkably similar to ones that circulated the nation decades before the tragedy unfolded, it strikes us as the potential hallmark of an enduring urban legend.
Sewer Gators & Murderous Water Babies? Oh, My!
The blood-thirsty alligators lurking in the sewers of New York City is one of the most popular urban legends in American folklore. Because it's too good to be true, it's almost as if everyone from regular Joes to the tin hat crowd hope it could be.
We might not have the robust sewer system of the Big Apple, but at 133 years-old, the Gem State is home to at least six spectacular urban legends—our personal favorite being the Murderous Water Babies of Pocatello recapped in the mini gallery below!
6 Creepy Idaho Legends That Will Keep You Up at Night
Scroll on for a gallery of urban legends that have been passed down from one Idaho generation to the next.
A.I. Reveals If 5 Creepy Idaho Urban Legends Are True Or Not
While some urban legends have some "truth" to it, others are just hogwash. We asked A.I. to determine which was which with five creepy Idaho urban legends. Here's what happened...