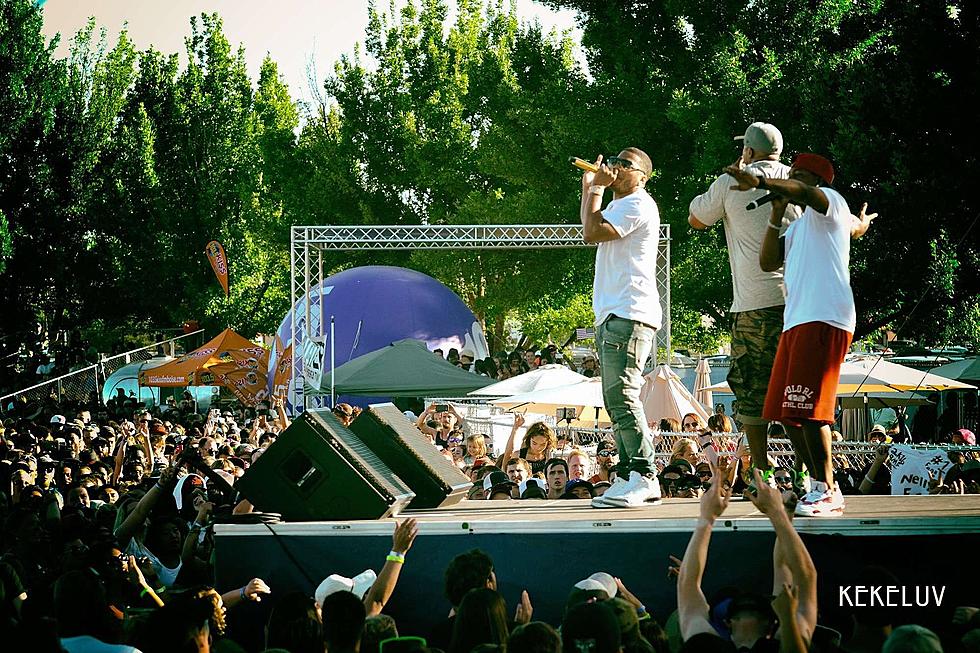 Nelly Concert is Being Protested in Northern Idaho: "selling your soul to the devil for money"
Courtesy: Kekeluv
You know when your ancient grandparents complain about the music "you kids are listening to these days?" That's basically what's happening in northern Idaho right now. 
Protesters from Kootenai County of northern Idaho are voicing their opposition to Nelly performing at a sold-out show during the North Idaho State Fair next month. An email chain titled, "Woah Nelly" was distributed to The Coeur d'Alene Press. A man named Duane Rasmussen says several people he has talked to are "appalled by the actions of the fair board in selecting rapper entertainment for the fair."
The protesters can't seem to fathom that people within their community would even want to come to see one of the most beloved performers of the early 2000s. Instead, it is their assumption, according to the emails, that the fair is intentionally attracting fans from other states for more financial gain; a move that one protestor describes as "selling your soul to the devil for money."
"Collecting money through ticket sales to people who live in CHAZ and CHOP might just help us get past the financial difficulties of the last year, but is that what we are willing to sell our cultural souls for?" the email reads. 
CHAZ and CHOP refer to the self-declared autonomous zones in cities like Seattle and Portland during the Black Lives Matter protests. They were the six blocks of unpoliced areas standing for Capitol Hill Autonomous Zone and Capitol Hill Organized Protest.
The email continues to criticize the fair board. "I wonder if someone on the far left that is consumed with creating everything possible to injure our traditional communities' values and lifestyle is behind influencing weak-minded people on the KC fair board and our county commissioners by selling them on this insane decision to upset our peaceful fair with the likes of Nelly." 
Some claim this to be an act of racism committed by Kootenai County residents as the county was not too long ago home to the Aryan Nations - an American anti-semitic, neo-Nazi, white supremacist terrorist organization. Additionally, there were also rumors overheard by Commissioner Bill Brooks, liaison to the fairgrounds, that volunteers related to anti-government militia movement groups like the Three Percenters were offering security services. All volunteers have "politely been turned down" and two private security companies have been hired for the event instead, according to KPVI.
The race accusation was shot down as well by a local pastor in a statement released to the Coeur d'Alene Press. Rev. Van Noy, the pastor of Candlelight Christian Fellowship Church, had to say, "This I find appalling! To judge a person based upon their ethnicity is condemned in Scripture and is an insult to our Creator." He continued,"I have been asked for help in navigating through what may harm the local community reputation — and I will." He further explains that the outrage has to do with the vulgarity of Nelly's lyrics - not his race. 
The original mail concludes by making an interesting comparison between Nelly and Elvis Presley, who during his time, was also censored for his music. "We are not oldsters that deny changing times. We are serious, responsible citizens with moral character who recognize filth and the increasing depravity of our youth stimulated when we see it. Nelly is no Elvis Presley." 
10 Things Guaranteed to Give Boise Drivers Road Rage
KEEP READING: These 7 Amazing Things Happened In Idaho First
These innovations in sports, recreation, politics, entertainment and technology happened in Idaho first.
13 Boise Businesses That Nailed It With Hilarious Signs