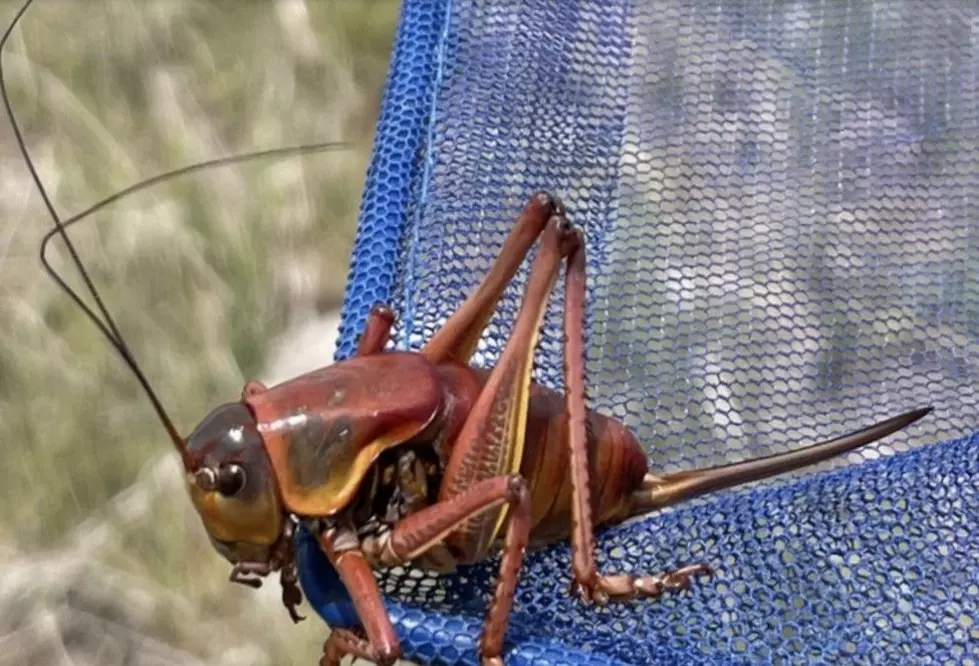 Mormon Crickets: Kuna, Idaho's Most Unwanted New Residents
Banner: (differential grasshopper) David Cappaert, Michigan State University, Bugwood.org. Photos: (mormon crickets & grasshoppers) Kahla Montrose, ISDA
Mormon crickets are Kuna, Idaho's most unwanted residents! On Monday, July 18th, a member of the Kuna Must Know Facebook group shared an alarming post to the group's page.
---
Drove out to Swan Falls dam a few days ago, and for about 4-6 miles, the road was covered with huge bugs. These had wings, too. They were BIG—maybe some other big, flying bugs happen to also swarm and were feeding on the bugs all over the road[?] Had to keep my windows rolled up since hundreds were flying and crashing [into] my windows and windshield. My car was covered with hundreds of them and the noise under my car from going over them was unreal. Black or dark brown, and white-spotted wings, [are] what [they] looked like to me. Any idea what they are? [I'm] new here, so I have no idea, and I have never seen anything like it.

 

---

 
Our hearts and thoughts are with you, Kuna Must Know Facebook member!
We appreciate how scary and intense an experience like that can be. Next, we thank you for sharing your sighting on social media. Since June of this year, Treasure Valley agriculturists and concerned citizens alike have waited with near-baited breath for these pests to descend upon the Gem State. Your testimony confirms the crop-slayer is here and back in a big way.
What are Mormon crickets? For starters, the pests, known as shieldbacked katydid, aren't "true" crickets. Infrequently spawned among the sagebrush-grass of the Great Basin, mountainous terrain, and specifically in the Rocky Mountains of Colorado, Mormon crickets wreak havoc upon "forage plants on rangeland and cultivated crops in the path of their migration."
Mormon Cricket Fast Facts
They feed on more than 400 types of plants
They prefer: milkvetches, penstemon, arrowleaf balsamroot, dandelion, and several mustards such as wild mustard, tumble mustard, and pepperweed
They LOVE cultivated plants like wheat, barley, alfalfa, sweetclover, truck crops, and graden veggies, which make the pests a serious threat to Idaho agriculture
There are over 100 species of of shieldbacked katydids in western North America
They're typically found in shrubs and bushes
They stop migration a few hours shy of sunset on the westward side of bushes
They feed the most during sunset
Scroll on for a gallery of pictures to help you identify Kuna's most unwanted resident!
Need help dealing with a Mormon cricket infestation? Visit Idaho's Grasshopper and Mormon Cricket Control Program or the peruse the Idaho State Department of Agriculture's digital quick reference (pdf) on the subject.
These Deadly Spiders Are Invading Idaho & Need to Be Stopped
This crazy Idaho weather is forcing these terrifying spiders into our homes. Can they be stopped?!
Rattlesnake Avoidance for Boise Dogs: 3 spring courses to keep them safe