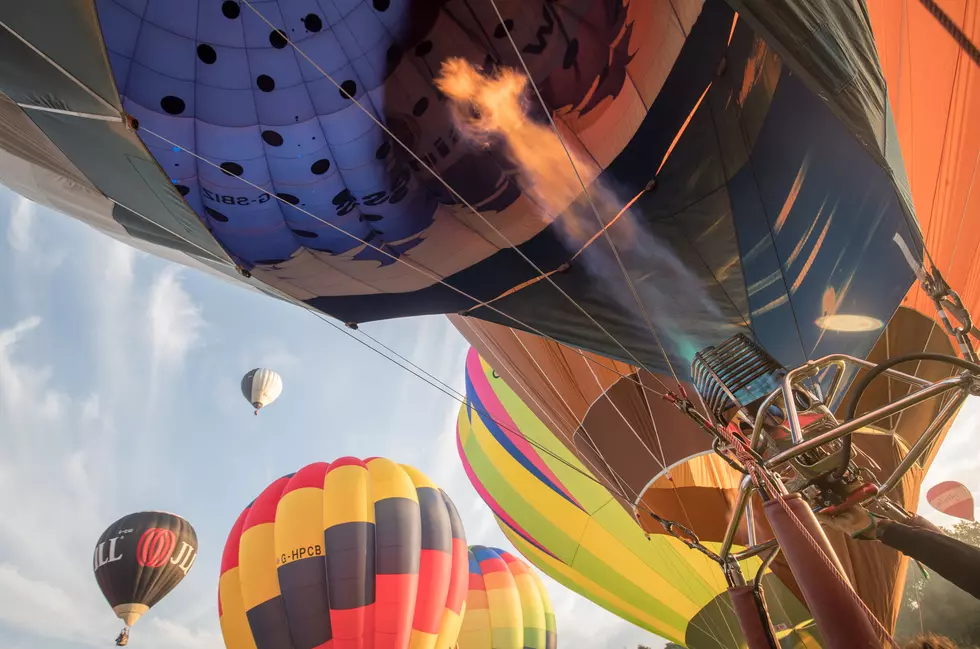 Hot Air Balloons Headed to Idaho as Spirit of Boise Announce Dates
(Photo by Matt Cardy/Getty Images)
It feels good to see so many of our favorite events coming back this Summer and beyond. so many of us have years of memories at things like the Boise Music Festival or the time you won a goldfish for your kids at the Western Idaho Fair.
Memories are made up of mini moments and we got robbed in 2021. Things are different today as our favorite things slowly inches back and that includes the Spirit of Boise Balloon Classic
What is the Boise Balloon Classic
This happens every year around Labor Day or the first Boise State Bronco football game of the season. The Spirit of Boise takes place live from Ann Morrison Park as some of the most beautiful hot air balloons take flight across the Treasure Valley. This annual balloon classic is the spirit of what Boise is about.
You can bring your kids, grab a coffee, some blankets and show up any morning to witness balloons take flight as the Sun comes up over Boise. This is a family event.
How much does it cost?
Free. This is a family event at Ann Morrison Park where kids run around in amazement at these huge masterpieces. There is no price for parking on any of the days. There will be vendors selling coffee during the morning launches.
The Spirit of Boise Balloon Classic runs for five days with special themed days including a very special fan favorite, the NightGlow.
Wednesday, September 1, 2021 (CapEd Credit Union Kid's Day) - This is a very special morning launch where your kids will be invited to jump in a hot air balloon of their choice. These balloons are tethered to the ground with straps and lines. Don't worry, nobody is going anywhere. It's just a moment for kids and families to feel the true Spirit of Boise. It's also a great photo opportunity for social media.
Thursday, September 2, 2021 (Media Day) - Special day for all your favorite media friends to enjoy a ride across Boise. You never know who might show up as they board 20 of the best balloons.
Friday, September 3, 2021 (V.I.P. Day and Nite Glow Spectacular) - This will be an emotional kick-off as the hot air ballooning community and Treasure Valley will commemorate Scott Spencer, The Spirit of Boise Balloon Classic founder who passed away in 2020. This NiteGlow was one of Scott's favorite events as the community comes together for one night as his friends in flight light the night sky. People travel from all over the state to witness this once-in-a-lifetime orchestrated Hot Air Balloon evening spectacular. There will be over 10,000 fans in attendance with food trucks, live bands, and a night glow that will never be forgotten.
Saturday, September 4, 2021 (Dawn Patrol) - The Spirit of Boise staff and pilots rise with the Sun for one of the final flights for the Dawn Patrol. The balloon takes flight at first light on Saturday.
Sunday, September 5, 2021 (Dawn Patrol Finale) - The final flight and celebration for the 2021 Spirit of Boise Balloon Classic. Everyone is invited to end out the season and welcome Labor Day.
50 Amazing Hot Air Balloons Taking Flight at Spirit of Boise Balloon Classic 2021
A glimpse at the 50 hot air balloons launching at this year's Spirt of Boise Balloon Classic (Sept 1 - Sept 6)
This Eastern Idaho Cave is a Cool Trip for Beginning Spelunkers
Valley Village Glamping is Perfect For People Who Hate Camping
Valley Village is a tiny home and RV park located in Irwin, Idaho. It's about a five hour road trip from Boise. A stay in one of their "glamping" tents is about $115.