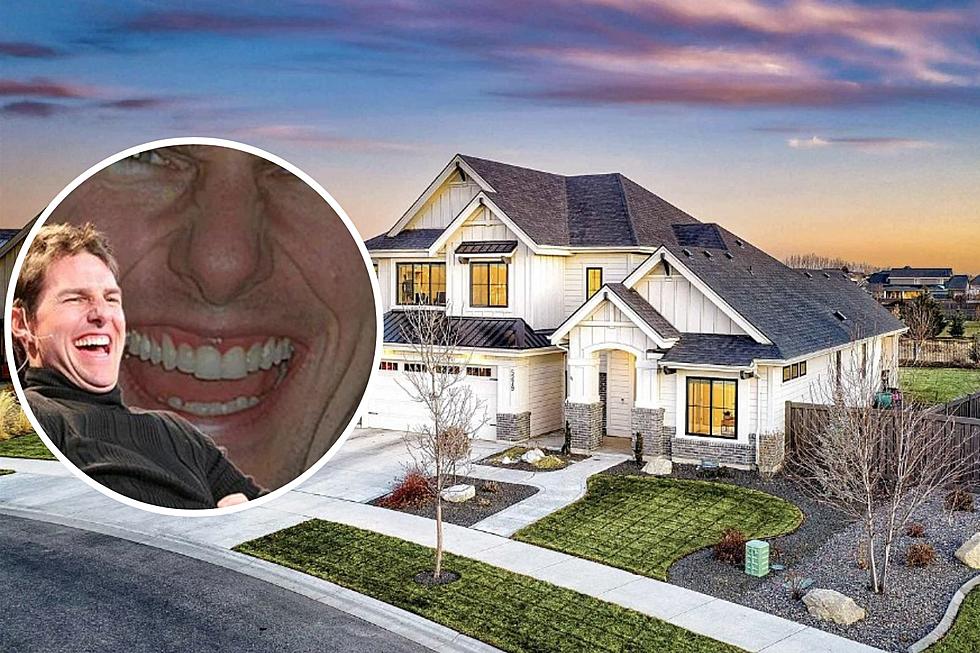 The Master Closet In This $1.7M Boise-Area Home Will Make You LOL
Arrow Tallman, Keller Williams Realty Boise // Zillow // Canva
Without a doubt, this hot listing is many an Idahoan's cuppa huckaberry tea.
From the gorgeous community it's nestled in, to the build's chic design aesthetic and modern floor plan, the $1.7 million-dollar homestead has it all. And while waking up to breathtaking views of the Boise Foothills and Idaho sunrises sounds dreamy, that's not what does it for us about this property.
We don't want to ruin the fun by giving too much away. But before you scroll on, think about how many times you've glanced at listings in and around Boise's Treasure Valley that look like they're tailored to an A-List Hollywood star?! None of them appear to be lived-in. None of them showcase everyday living. And apart from a one-off houseplant or a meticulously groomed landscape, few show any other signs of life.
This home, however, is listing itself in a different way. It sets itself apart from the pack by being real...something we'd love more of in Idaho's real estate market.
The Master Closet In This $1.7M Boise-Area Home Will Make You LOL 😆
Hat-tip to the current homeowners for giving us something rare & real to LOL about in this master closet!
💎 A Beautiful $69k Mobile Home Makes Meridian Living Affordable
Interested in making this mobile beauty your home? Keep scrolling!
😍 SOLD! A Boise Bench Home Straight Out of the '90s
From
music
and
movies
, to
fashion
and
pop culture
, 2022 is rife with
hella cool
'90s nostalgia with no signs of stopping. Its latest conquest is the 2022 housing market and home design! Droves of prospective homebuyers in Idaho and around the country are searching for the back-to-the-basics vibe of '90s home design.
This is why it comes as no surprise that this '90s Boise Bench home listing stole our
hearts
. Scroll through our gallery of pics for a trip down memory lane. Could this '90s house become your next Boise home?
PS, We probably had a little too much fun with the captions, but whateverrr!
😎 $29K Mobile Home Listing in Garden City Is Way Nicer Than You'd Expect [gallery]
🏠 As the housing market prices have climbed, Idahoans from every generation and demographic are seeing mobile homes in a new, inspired light!
🏠 If you're in search of a terrific, affordable mobile home in the Boise area, you've come to the right place, friend. Scroll on to check out the mobile home GEM we found hiding in Idaho's Garden City!
$74,950 Foreclosed Home For Sale In One of Idaho's Most Beautiful Cities
Shoshone County's cutest foreclosure is looking for its forever family!
💎 Stunning $4.3M Eagle Home Has an Incredible Outdoor Sportsplex
🏠 If you're in the market for a stunning home in Eagle, Idaho, you've come to the right place!
📱 Scroll through our stunning gallery of the home that has it all. Exquisite design aesthetics lend this $4.3 million-dollar Eagle residence elements of grandeur accented with modern, chic fixtures.
💗 Love this home sweet home? Lucky for you, our team of local writers have quite the yin for fabulous real estate in and around Boise's Treasure Valley. Week after week, we share pics and insight on Idaho's most coveted and unique listings.
😍 If living vicariously through someone else's real estate conquests sounds like fun, you're in fantastic company! Right-click to tab and explore this
stellar '90s home on the Boise Bench
after you're done perusing this property!
💧 Waterfront Home is One of the Prettiest New Builds in Star
📌 Northwest of Boise, Star has conserved the charm of small town living while embracing exciting growth and development.
Scroll on to tour one of the prettiest waterfront properties we've ever seen in the beautiful town!
🕵🏼‍♀️ Mystery Fans Will Love Searching for Secret Room Inside $1.3M Garden City Home [PICS]
📙 Mystery novel fans are enchanted by the mystery within this Garden City beauty!
💎 Listed at $1.3M, this Treasure Valley gem on the river has a secret room.
🕵🏽‍♂️ Use your expert sleuthing skills to find its concealed living space!
We'll reveal the secret location at the end of the gallery!