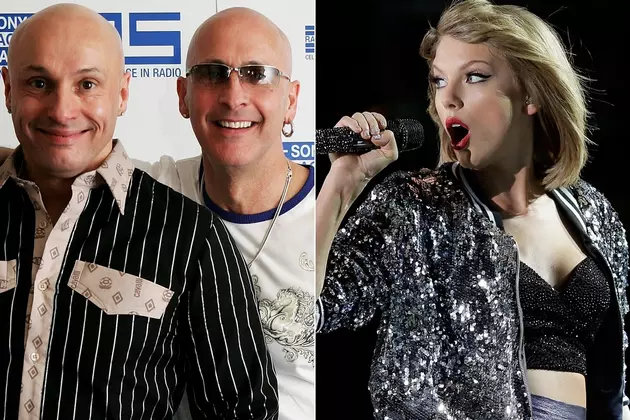 Not 'Too Sexy' for Taylor Swift: Why Right Said Fred is Credited on 'Look What You Made Me Do'
Claire Greenway / Mark Metcalfe, Getty Images
Taylor Swift dispensed with a lot of lead-up for her new "Look What You Made Me Do" single, sending the song to streaming services and radio just a day after announcing the impending arrival of her sixth studio LP, Reputation. But the song itself wasn't the only surprise for fans: the songwriting credits reveal a co-writing credit for none other than early '90s one-hit sensations Right Said Fred.
Co-written by Swift and producer Jack Antonoff, the song is also credited to RSF members Fred Fairbrass, Richard Fairbrass, and Rob Manzoli — an addition attributed to "an interpolation of a melody" the trio penned for their signature hit "I'm Too Sexy." Needless to say, it isn't the first source of inspiration one might think of when considering where Swift might turn for ideas, but the members of Right Said Fred definitely aren't complaining — they took to Twitter to say thank you, deeming "Look What You Made Me Do" a "marvelous reinvention."
Of course, how heavily "Look What You Made Me Do" leans on "I'm Too Sexy" is open to interpretation, and it isn't difficult to assume Swift and Antonoff made the decision to give Right Said Fred a co-writing credit in order to ward off the possibility of suffering the same fate that befell Robin Thicke after he was sued by Marvin Gaye's estate for "Blurred Lines." Either way, it adds an intriguing subplot to the song — and begs the question of whether any other surprising collaborations are in store when Reputation arrives Nov. 10. Stream both songs back-to-back below.
Alternative Rock's 50 Greatest Debut Singles