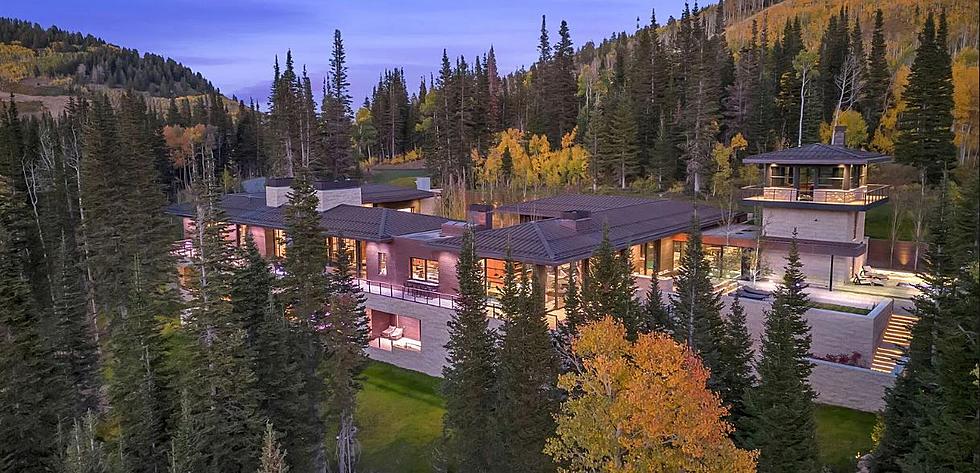 Secluded $50M Over-the-Top Utah Mansion You Have To See To Believe
Photo Credit: Engel & Voelkers Park City // Zillow
Quirky & Secluded Park City Mansion
Despite the fact that this secluded, $50 million-dollar Park City mansion looks like an upscale prison compound, we have to admit it's pretty flippin' awesome. Whoever built this property clearly used the extent of their imagination and vast financial resources to create a quirky, secluded paradise all their own. From their love of décor horns (that's a thing, apparently) and out-of-the-ordinary couches, kitchen islands, and home offices, this marvelous piece of Utah real estate took us by surprise in the best way.
Unique Features
Built in 2022, the mansion sits at the base of the exquisite Monitor Bowl mountain range on the Park City Mountain Resort. With 5 ski-in/ski-out acres inside The Colony at White Pine Canyon, accessibility is never issue for winter sport recreators.
The modern compound boasts six bedrooms, 11 bathrooms, and four garage spaces across 17,567 sqft as well as: a massage room, a Himalayan salt room and hot tub, a cold plunge pool, and an infrared sauna. Aesthetically speaking, the compound boasts unbelievable craftsmanship, to include Italian steel windows, Croatian limestone, shou sugi ban charred cypress, and a copper roof.
A Home or Spa?
If you're wondering why this property sounds more like a spa than a home, that's because "'Monitor's Rest' is a wellness home, featuring Delos' DARWIN Home Wellness Intelligence Network."
The system regulates circadian rhythm lighting and monitors! It also calibrates the interior air quality and removes impurities from the home's water supply. Hat-tip to the Utah homeowners who dazzled us with a home design unlike anything we've ever seen here in Idaho!
Scroll on for a look at the compound's exquisite design and architecture!
$50M Over-the-Top Utah Mansion You Have To See To Believe
Let's have a look at what a lot of imagination & a $50 million-dollar construction budget can get you in the state of Utah!
UPDATE! See What Happened to the Creepy Abandoned Mansion in Eagle
Riverstone Resort-Style Community in Eagle, Idaho
UPDATE: It caught the attention of tens of thousands of locals, and now it's gone! As creepy as it was, we're glad we were able to capture photos of the mysterious piece of local real estate. New photos are at the end of the gallery.
Join me as I explore an abandoned mansion in Eagle's premier luxury community. Nestled on the banks of the Boise River, the once-beautiful waterfront property is outfitted with a mote, a bridge, stables, a taxidermy shed, and a basketball court!
From Riverstone's gated entryway, to the private road that leads to the curious ruins, scroll through a gallery of exclusive, never-before-seen pictures.
Love local real estate? You're in good company! Scroll on for a series of spectacular galleries featuring the Boise-area's most eye-catching homes!
$100k Price-Drop: A Boise Bench Home Straight Outta the '90s
From
music
and
movies
, to
fashion
and
pop culture
, 2022 is rife with
hella cool
'90s nostalgia with no signs of stopping. Its latest conquest is the 2022 housing market and home design! Droves of prospective homebuyers in Idaho and around the country are searching for the back-to-the-basics vibe of '90s home design.
This is why it comes as no surprise that this '90s Boise Bench home listing stole our
hearts
. Scroll through our gallery of pics for a trip down memory lane. Could this '90s house become your next Boise home?
PS, We probably had a little too much fun with the captions, but whateverrr!