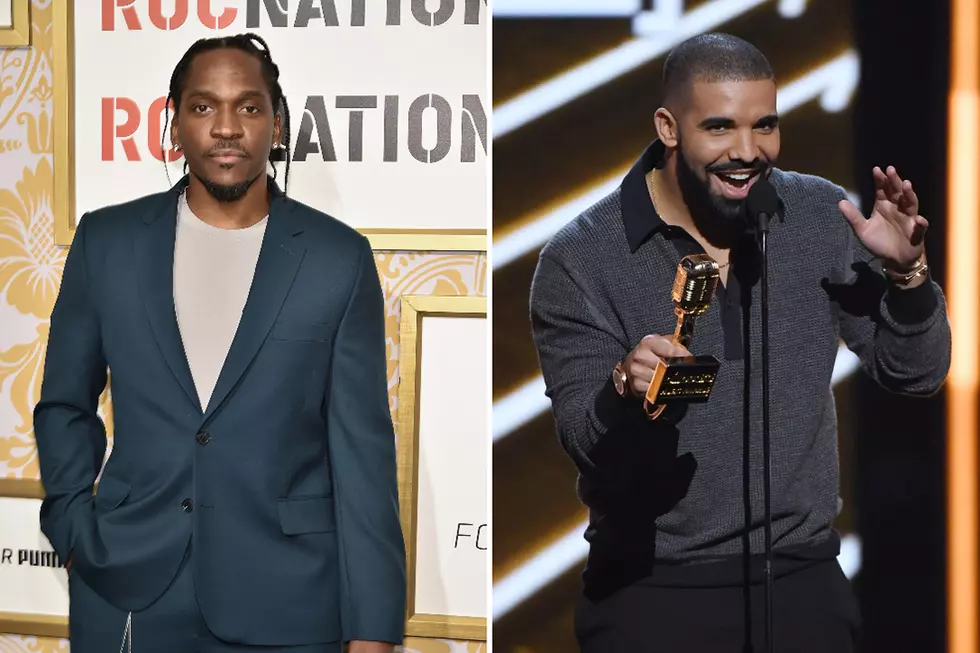 Pusha-T Uncovers Photo of Drake in Blackface
Steven Ferdman / Ethan Miller, Getty Images (2)
On Tuesday (May 29), Pusha-T dropped "The Story of Adidon"—his scathing reply to Drake's "Duppy Freestyle." While Pusha's bars about Drake's alleged secret child and Noah "40" Shebib's health had everyone talking, it was the artwork for the song that sent Twitter into a frenzy.
For the track's cover, the Daytona rapper was able to discover an actual picture of Drake in blackface, which appears to be from the late-2000s. "Please stop referring to this picture as 'artwork'...I'm not an internet baby, I don't edit images...this is a REAL picture...these are his truths, see for yourself," Pusha tweeted.
The photo of Drake in blackface could be found on photographer David Leyes' website under his portraits section but has since be taken down. In a now-deleted tweet from Leyes, the photographer asked Pusha-T's manager, Steven Victor, to take the photo down.
"@StevenVictor hey Steven Please get Push to take the Drake photo down asap," Leyes tweeted. While it's uncertain if Victor replied, the photo was eventually removed from the Virginia rapper's Instagram page due to copyright infringement. "First time this has happened to me..." Pusha wrote on IG.
As for the shirt Drake is wearing the photo, which features the character Jim Crow, the apparel appears to be from the Too Black Guys summer '08 line. One man on Twitter pointed out that similar shirts from the collection were modeled by Pac Div. Drizzy had previously showed off shirts from the winter collection on the OVO blog.
Check out the social media posts below.
See Photos of Drake's Different Looks Over the Years