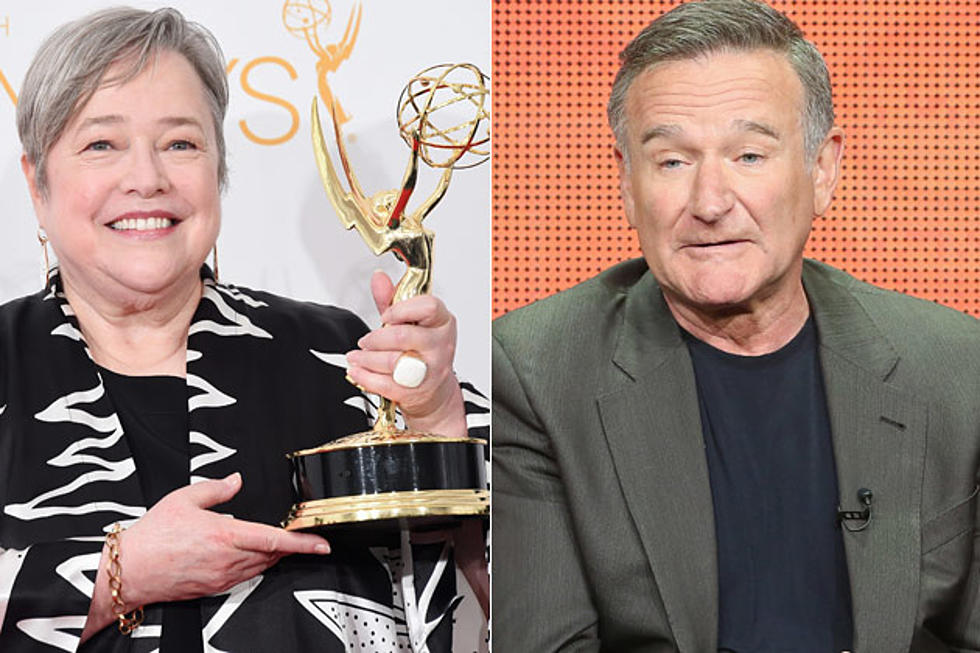 Kathy Bates Wanted to Dedicate Her 2014 Emmy to Robin Williams: 'He Was So Kind to Me'
Jason Merritt/ Frederick M. Brown, Getty Images
The 2014 Emmys, which aired last night (Aug. 25), struck a somber note with Billy Crystal's touching speech that honored his good friend Robin Williams. As it turns out, Crystal wasn't the only star who wanted to pay tribute to Williams. Emmy-winner Kathy Bates admitted she wanted to dedicate her award for Outstanding Supporting Actress in a Miniseries to the late star.
After accepting her award, Bates spoke of Williams backstage, recalling his oft-remembered kindness.
"When I won my first major award for 'Misery' — a Golden Globe — they didn't have cell phones and I was waiting at a pay phone to call my mother afterward and I didn't have a quarter," she recalled (quotes via the Hollywood Reporter). "I turned around and asked, and Robin said, 'Here's a quarter to call your mother.' I never forgot that kindness."
Years later, the comedian reached out to Bates after she lost an Academy Award to Judi Dench. She recalls that Williams, who presented the Oscar, spoke with her during a commercial break.
"He came to me and said, 'I really wished I could have had your name in the envelope; are you OK? I know how hard it is to lose,'" Bates said. "He was so kind to me."
The actress admits she wanted to dedicate last night's Emmy win Williams, but at the last minute backed down, saying, "I almost wanted to say, 'Look, I own this time and this is for you,' but I was just so … nervous."
Williams died on Aug. 11 at age 63. His cause of death was later ruled as asphyxia due to hanging.
See More 2014 Emmys Red Carpet + Show Photos