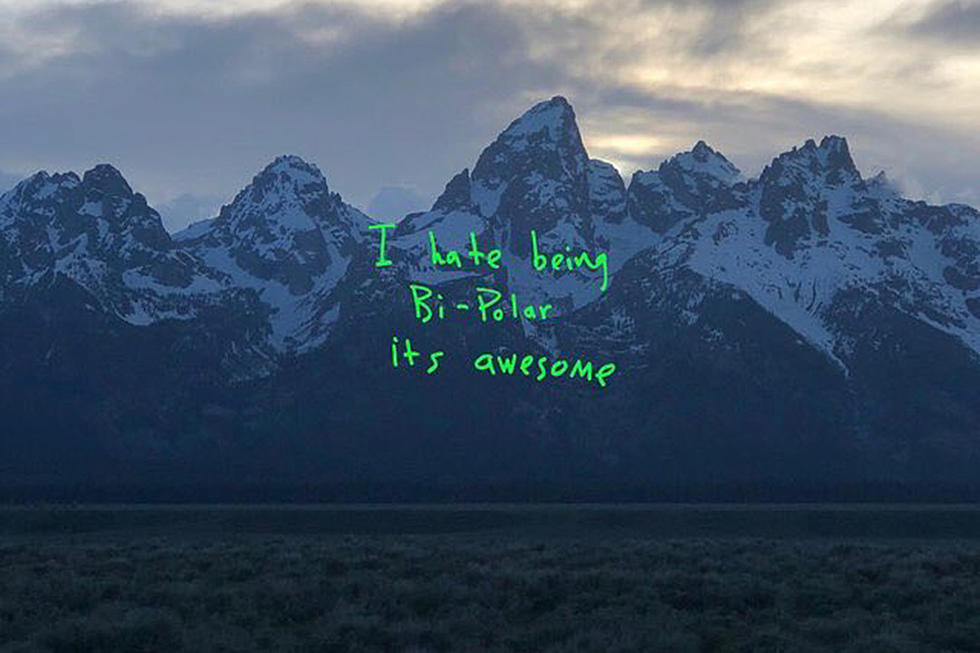 Kanye West Delivers 'Ye' Album Featuring Kid Cudi, Ty Dolla Sign and More
Getting Out Our Dreams II
Coming two years after his last album The Life of Pablo, the new LP has been a while in the making and seems like it was mostly cultivated in Yeezy's new happy place in Wyoming. Last May, it was first reported 'Ye escaped to the seclusion of Jackson Hole, Wyo. to complete his new project. A couple months ago, he returned to the mountain location to work on the album and was joined by a who's who of artists including Travis Scott, The-Dream, King Louie, producer Pi'erre Bourne, Gunna, Tony Williams, ASAP Bari, Kid Cudi and Nas. Just as late as last week, Kanye was spotted in the studio with Chance The Rapper and Rick Rubin.
With West clearly on a different wavelength these days, fans are wondering if his new outlook on life will reflect in his music. The finished product comes in at seven tracks, the new G.O.O.D. Music magic number, and has features from Ty Dolla $ign, Kid Cudi, Charlie Wilson and more.
'Ye flew a large number of journalists, tastemakers, industry-types and rappers out to Wyoming to his album listening event on Thursday (May 31), with the number of those in attendance reportedly in the hundreds. 2 Chainz, Kid Cudi, Fabolous, DJ Clue, Theophilus London, CyHi The Prynce, Lil Yachty, Nas, Ty Dolla $ign, Dame Dash and actors Chris Rock, Jonah Hill and more were all on hand and took in the album outside in front of a bonfire.
A week from now, Yeezy will continue the G.O.O.D. Music onslaught with a joint album with Kid Cudi titled Kids See Ghosts.
Listen to Kanye West's new Ye album below.
Kanye West's Ye Album Tracklist
1. "I Thought About Killing You"
2. "Yikes"
3. "All Mine"
4. "Wouldn't Leave"
5. "No Mistakes"
6. "Ghost Town"
7. "Violent Crimes
See New Music Releases for June 2018