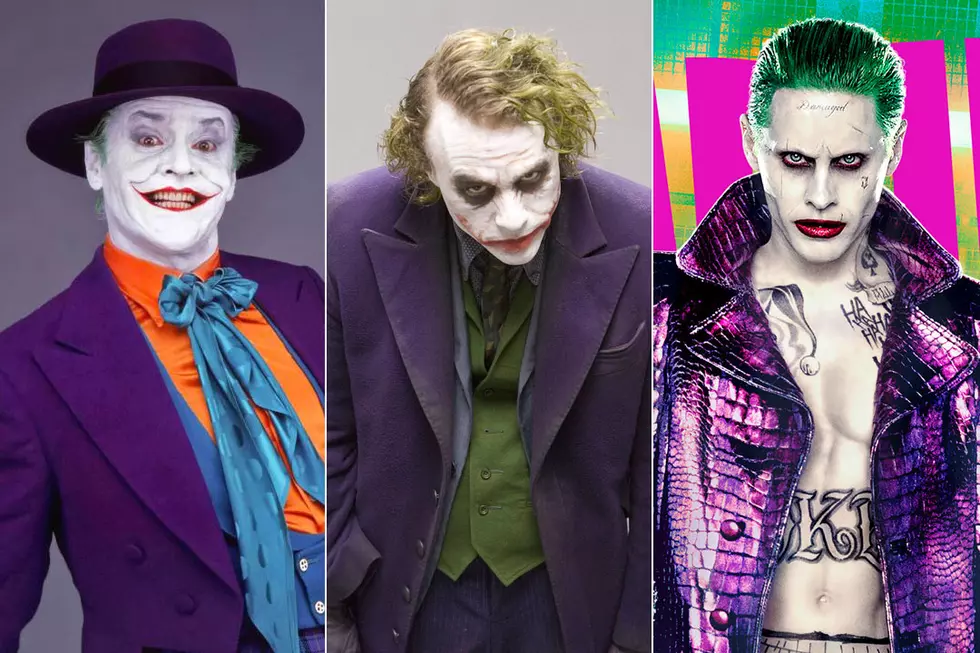 Jared Leto Thinks Heath Ledger and Jack Nicholson's Jokers Would Be Proud of Him
Warner Bros.
30 Seconds to Mars frontman Jared Leto's account on Twitter is an… interesting place. While most celebrities use the social media platform to afford their fans a little peek into their day-to-day lives, the Academy Award-winning actor treats it as a portal directly into the recesses of his mind. And, by anyone's measure, it's weird in there. For instance, here's a photo of a shard of driftwood wedged between two rocks. Why is it there? We'll never know, though that didn't stop nearly two thousand people from hitting the little heart-button on it. Only Jared Leto can know. Hi, Jared Leto.
But Leto diverged from his usual combination of oh-I-didn't-see-you-there selfies and inscrutable retweets for a post pertaining to his role as the Joker in the upcoming Suicide Squad film. Some fans have been unsure about Leto and director David Ayer's vision for the classic Batman villain, both because he looks like someone who'd try to hit on your girlfriend at Warped Tour and because comic book fans collapse into piles of dust without something get worked up over. So Leto took to Twitter to reassure his 2.14 million fans that he had the situation well in hand. He did so by posting the following image:
I can speak only for myself, but I am significantly more worried now than I was before Leto attempted to convince us that there's no need to worry. Nobody ever feels the need to publicly establish that everything's going fine when things actually are going fine. The core premise of this tweet is rather confusing, too; are we to understand that the cinematic depictions of the Joker all hang out together and converse with one another? Is Mark Hamill's animated psychopath allowed to join in on the fun? Can someone who knows how to use Photoshop insert Cesar Romero giving Nicholson's Joker a shoulder rub and telling him "YOUR CONFIDENCE IN HIM MAY BE UNDULY OPTIMISTIC BUT WE'LL SEE"? Truly, this tweet contains multitudes.