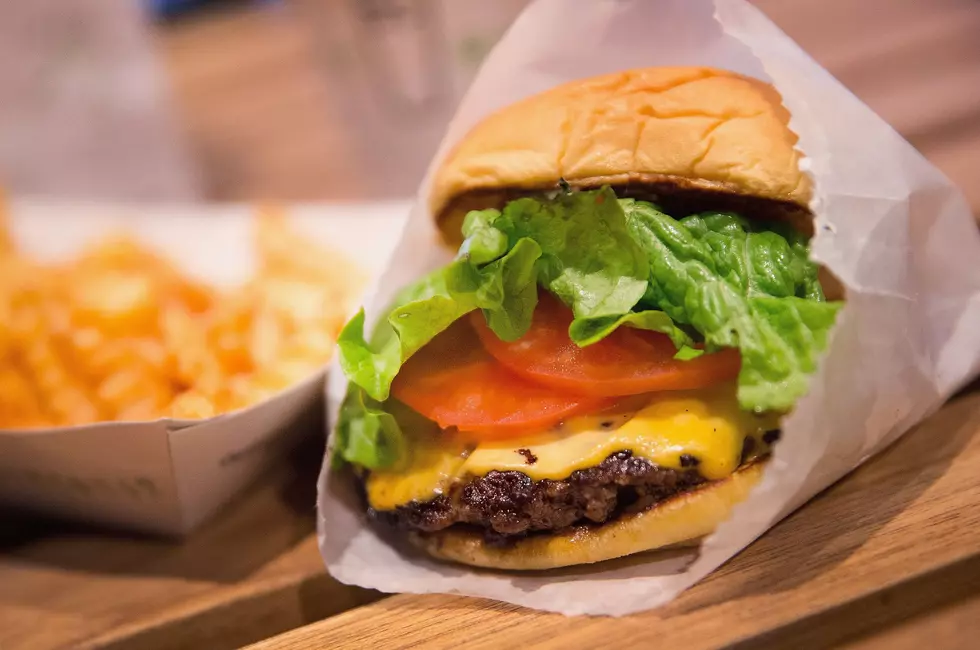 It's Great That Boise Is Getting An In-N-Out, But Here's The Burger We Need
Photo Illustration by Scott Olson/Getty Images
All of Idaho is talking about it. We've been waiting so very patiently, and it's finally coming our way. In-N-Out Burger will be arriving to Boise in the next year or so. It's something to be excited about. There's no doubt that it's one of the best burgers in the country.
However, there are even better burgers that I'm still waiting on. Don't get me wrong I love a Double-Double Animal Style. But what's even better? Shake Shack. That's what we really need in Boise.
The Burger Wars are never ending. Everyone has their opinion and they stand by it. Some will say In-N-Out has the best burger. Some will say it's Culvers. Others will say quite simply it's the Quarter Pounder with cheese. Everyone is entitled to their opinion. Personally, I think Shake Shack is the best burger I've had.
The ingredients are quality and the taste is out of this world. It's got that crisp that comes on many smash burgers. I love it. It's not greasy, either. After you eat it you're not left feeling sick and miserable.
Utah has three Shake Shacks. Washington has three of their own, as well. Oregon proudly has one, and California has more than 20. However, here in Idaho, we don't have a single one. That's not fair!
For me, the Double ShackBurger is the way to go. It's basically the original. Angus beef cheeseburger with lettuce, tomato, and ShackSauce on a toasted potato bun. The bun is what it's all about, too. Really separates ShakeShack from the competitors.
You can't go wrong with the SmokeShack, either. It's the perfect amount of spicy, without being overwhelming. It has an angus beef cheeseburger with Applewood smoked bacon, chopped cherry peppers, and ShackSauce on that toasted potato bun.
In addition to the burgers, I've had their 'Shroom Burger and it is simply out of bounds. I've never had one like it. Vegetarians and carnivores alike will dig in and enjoy it. A one of a kind eating experience.
It's not all about burgers, however. They've also got killer shakes, hence their name sake. They also offer hot dogs that are amazing, and they have the best crinkle cut fries I've ever had. Usually not a crinkle fry guy, but they make it work.
If you don't believe me that Shake Shack is where it's at, then just look at these pictures and try to stop your mouth from watering.
Boise Needs A Shake Shack
Yes, it's great that we're getting an In-N-Out Burger in Boise. What we really need, however, is a Shake Shack.
Ahhh it looks so good. We need that here in Boise. Don't get me wrong I'm going to love In-N-Out Burger. I'll be waiting in line along with everyone else when it finally arrives. But I won't stop shouting from the rooftops that we need a Shake Shack.
Even once we get our own Shake Shack, I'll still respect and value our local burgeries. I'll still go to Bad Boys. I'll still go to Sid's Garage. I'll still support our local McDonald's, Wendy's, and Culver's. Can't forget we have one of those in Meridian. Another fantastic burger.
Shake Shack isn't the only burger joint that those of us in the Treasure Valley are asking for. Have you ever tried Whataburger? It's a big deal down in Texas, and when it comes to food Texas is a state that I trust.
Here is more on Whataburger and why we need one in Boise or Idaho, in general. They offer one of the best burgers in the country and we shouldn't have to miss out on all the fun that other cities and states are having. Bring it to Boise!
5 Reasons We Want Whataburger Over In-N-Out In Boise
With all the talk of In-N-Out coming to the Treasure Valley, we share the five reasons we want Whataburger over the California-based chain.
Don't forget about these delicious burgers in Boise. Keep scrolling to read more about In-N-Out Burger coming to Boise!
10 of the Most Outrageous Burgers You'll Find Around Boise
Why have a boring old burger with a slice of cheese and a few veggies on it, when you can try one of these unique creations that can only be found in and around Boise?!
IN-N-OUT BURGER BOISE
A look at the continued appeal of one of Idaho's favorite fast-food chains currrently not in the state.