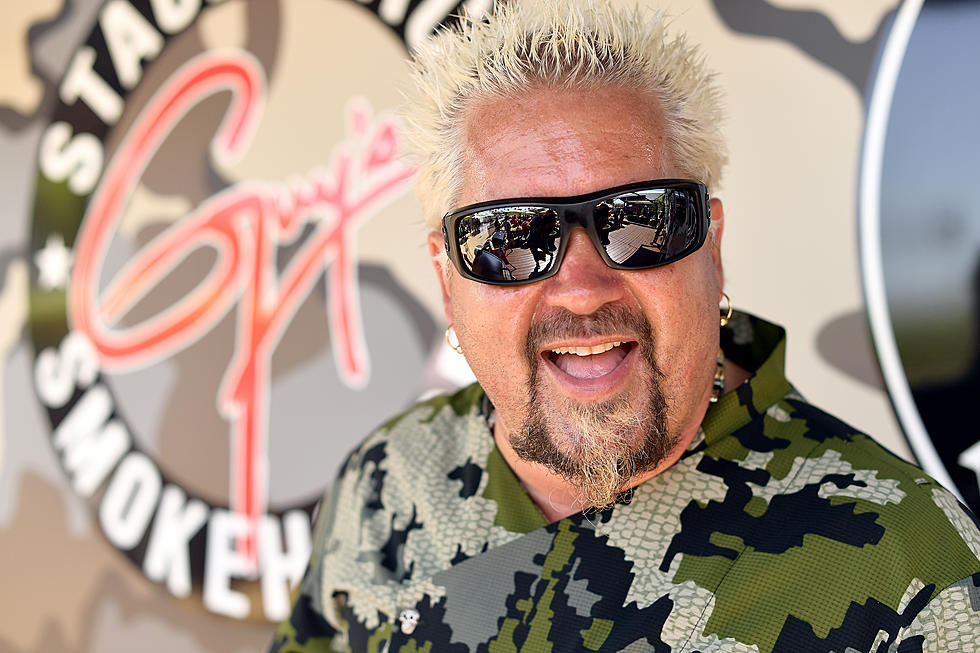 Guy Fieri is Filming Popular Show at a Special Boise Cafe This Weekend
Matt Winkelmeyer, Getty Images for Stagecoach
It's been quite a few years since Guy Fieri visited the Treasure Valley, but thanks to his post on Instagram we know the Mayor of Flavortown is back in our area! 
On Friday, Guy Fieri posted a photo of himself watching son Ryder sign a poster while filming an episode of Diners, Drive-Ins and Dives. It didn't take fans of the show long to read the caption and realize the Fieri men were in our neck of the woods. The caption reads: 
"Ryder cohosting DDD in Boise today and he did great!! So funny"
Eagle-eyed Boise residents figured out what restaurant they were at pretty quickly thanks to the crystal clear shot of the menu board. The very first item on the menu was a "Saffron Latte." Correct us if we're wrong, but there's only one restaurant in Boise that we know of with a Saffron Latte on the menu - Sunshine Spice Cafe on Fairview Avenue! 
We hopped over to their Facebook page to find this message: 
"Just a quick reminder that we will be closed for a special event this weekend. We are sorry for any inconvenience this causes. We will be open regular hours next week.  See you on Wednesday!" 
And now it's pretty obvious what that special event is! 
The unique cafe opened in Boise in 2019 and was the brainchild of the Shams sisters. According to the story on their website, the four girls were born in Afghanistan and spent their early lives in Iran and Turkey. Their father wanted more for them, so he brought his family to the United States so that his girls could get an education. That's something that wasn't possible under Taliban rule.
Well, not only did they learn English and get an education, they became female leaders in the Boise business world! Over the three years, the cafe has received 214 reviews on Google and has a 4.9 star rating. They use saffron in more than just their lattes. The spice, a common ingredient in the Shams' native Afghanistan, finds its way into pastries, puddings and more. Its nickname is the "sunshine spice" and that's how the cafe got its name! 
Where Else is Guy Headed?
Your guess is as good as ours, but according to Mashed, Guy normally pulls his famous red Camaro up to several restaurants in a single day! We follow a lot of foodie groups on Facebook and are keeping a close eye on Guy's Instagram now that we know he's in town. 
We DID hear rumors that he was at Taj Mahal on 8th Street. Their Facebook page posted this message the day after Valentine's Day: 
"Hello Everyone! Hope you had an incredible Valentines Day! We will be closed today February 15th 2023. We will be open again tomorrow from 4-9PM"
The fact that they posted a photo of the cool gift that Guy left behind after he ate there seems to be a good indication that the rumor was true!
We also heard that he stopped by Tango's Subs and Empanadas. Their Facebook page showed the Meridian location was closed for "Special Events" on Monday, Tuesday, Thursday and Friday.
Keep an eye out for Facebook posts that your favorite DDD may be closed for a "special event" this weekend! That's usually a good indication that a film crew is about to do their thing. Almost all of the area restaurants that were part of the shoot for Bar Rescue last year did the same thing. 
If you catch wind of where he's going to be next, shoot us a tip HERE! 
Meanwhile you can take a look at the restaurants at the restaurants Guy visited for the episodes filmed in Idaho that originally aired in 2009, 2010 and 2011 below! 
KEEP READING: Every Idaho Restaurant That's Been on Food Network
Every Boise Restaurant That Appeared on Man v. Food
The Travel Channel series has been hosted by two different people. Both of them chose to visit the City of Trees to get their grub on. Here's where and what they ate!
These 10 Boise Area Restaurants Were Just Distinguished as the Best "Neighborhood Gems"
Based on reviews OpenTable users have left, these 10 restaurants are the Boise Area's best "Neighborhood Gems" in 2022.