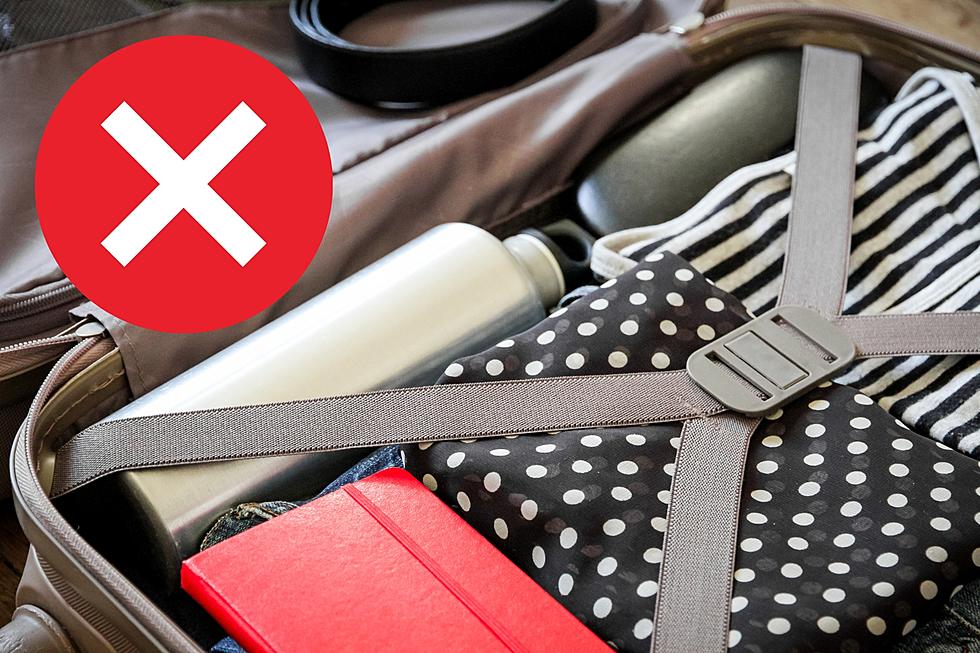 19 Items Absolutely Banned from Checked Bags at the Boise Airport
Canva
As Boise continues to grow, it's become pretty clear that you can no longer show up at the airport less than an hour before your flight and expect a smooth process. 
There's a chance we'll share this article on social media during another busy travel season, but at the time we're writing it Spring Break is just a few days away. The Boise Airport expects more than 200,000 travelers to pass through its gates during the last two weeks of March. They suggest arriving 90 minutes before your flight is scheduled to board if you have a ride to the airport. Self-parking? Plan on two hours. 
They also suggest checking the TSA "What Can I Bring" page to make sure that you're not packing prohibited items. Most travelers are familiar with the rules for carry-ons or will check that page beforehand to ensure they're not the reason a security line slows down. Sometimes, they overlook or are confused about what can or cannot be put in a checked bag. 
We experienced this on the way BACK to Boise last year. The gate agent for my airline told us we couldn't pack our full-size (7 oz) aerosol hairspray in our checked luggage. We'd flown with a similar can of hairspray dozens of times and it was never a problem. Not wanting to miss out flight, we threw it out because we didn't have time to argue with them even though that size can is fully admissible under TSA guidance. 
Upon our arrival back in Boise, we looked to if the hairspray was against a policy the airline had. The gate agent was wrong, but at least it was just a $7 can of hairspray from Walmart and not some fancy, overpriced salon brand! 
That said, there are certain things that are absolutely banned from traveling in your checked luggage. If you pack them, you will absolutely lose the argument with a gate agent. If your bag makes its way to TSA inspection with one of these items in it, you could be subject to fines or be arrested, depending on what the item is. Fines can range from $390 all the way up to $14,950. That's a quick way to ruin your vacation. 
We pulled 19 of the items prohibited from checked luggage off the TSA's website, but there are well over 50 items in total. You can check the full list here. Take a peek at it so that your next trip out of BOI is an easy one! 
19 Items Absolutely Banned from Checked Bags at the Boise Airport
You may be familiar with what you can and cannot pack in your carry-on. But how familiar with items banned from your checked luggage? These are 19 of the more than 50 items that can't fly in your checked bag according to the TSA.
KEEP READING: Idaho Goodwill Stores Will Not Accept These 27 Items
5 Reasons a Coeur d'Alene, Idaho Vacation is Worth the Drive
Prevention Magazine has named Coeur d'Alene the most underrated city in Idaho. We're not sure that it fits the bill because it's a very well-known vacation destination, but we agree that a trip there is always a good time!