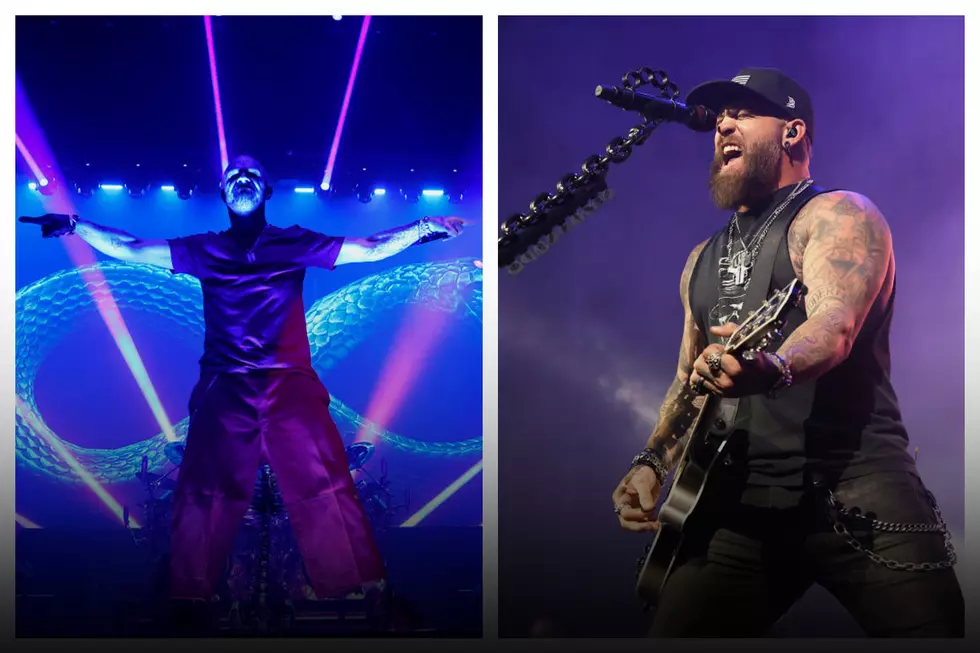 Brantley Gilbert & 5 Finger Death Punch Love Nampa, Idaho! PHOTOS
Getty Images
Yeah, it's safe to say Idaho loves Brantley Gilbert and Five Finger Death Punch, but are the feelings mutual? Absolutely. The incredibly unique duo brought a packed house to the Ford Idaho Center last night, and it stayed packed the whole time. Keep scrolling for pictures we got at the concert 👇
Brantley Gilbert and Five Finger Death Punch both mentioned multiple times throughout the show that this was their second to last concert on their tour, and they're going "all out" because they don't want it to end. They have one more concert in Las Vegas tomorrow night, Dec. 17, 2022.
There were many incredible moments throughout the show, but here are two of my favorite parts...
1. Both acts really appreciated and dedicated their performances to our country and the people who serve our country. This was a very patriotic show, and that was really awesome to witness.
For example, Brantley Gilbert performed "One Hell of an Amen" while displaying footage of emergency responders and troops overseas on the big screens. And Five Finger Death Punch had a tribute as well, and he held up the American flag and wore a hoodie with the American flag on it — which he later gave to someone in the audience.
2. I also really appreciated was their efforts to make sure everyone was safe. Five Finger Death Punch stopped everything to make sure a little girl and her family could safely get to the sidelines, saying, "I'm sorry everybody, she was in tears. I want to make sure they're alright. She's like 7 years old. It's a good time to sit over on the sidelines, come on kids, let the big kids have fun. Thank you, guys, for being patient. Sorry."
This concert with Brantley Gilbert and Five Finger Death Punch was absolutely a surreal experience, and they had nothing but great things to say about being in Idaho! Keep scrolling for pictures from the concert and other concerts from earlier this year👇
Brantley Gilbert & 5 Finger Death Punch Love Nampa, Idaho!
Photos | Safe to Say Idaho Loves Morgan Wallen...
Major Concerts Coming to the Boise Area in 2022
In 2021, we slowly saw the return of live music to the Treasure Valley. 2022 promises to be even bigger. Click the link of each act to be taken to the venue's website for more information about times and tickets.
Eric Church Came Back to Idaho for His Gather Again Tour!