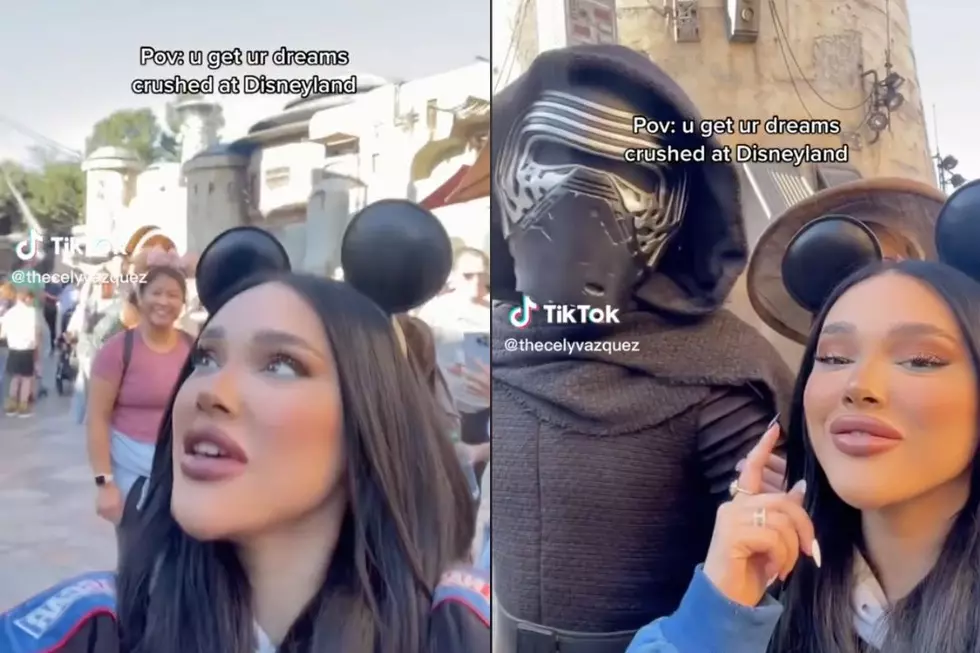 Influencer Slammed After Asking Character at Disneyland for Kiss on the Cheek
@thecelyvazquez via TikTok
An influencer and former Love Island USA star is facing backlash on TikTok after going viral for asking a character at Disneyland for a kiss.
In a video posted Jan. 28, Cely Vazquez asks Star Wars character Kylo Ren, "Do you wanna give me a kiss on the cheek?" as she leans in and taps her cheek.
"How original," Kylo Ren replies, while a Cast Member in the background waves Vazquez away.
"POV: u get ur dreams crushed at Disneyland," Vazquez's caption reads.
Watch the viral video, which has been viewed over 3 million times as of publishing, below:
In the comments section, Vazquez got skewered for her antics.
"Why in the world???? would you ask that???" one viewer commented.
"Sooo gross. If this was [a] guy asking a princess for a kiss he'd get screamed at. And I'm NEVER one to defend men, but this isn't cool," someone else wrote.
"This isn't in character for Kylo. It's not something he would ever do. That's why they say no to certain things otherwise, they can get in trouble," another user explained.
Others defended the Cast Member who stepped in during the situation, who some called a "Karen" in the comments, for doing her job.
"She isn't a Karen ... it's literally her whole job to make sure no one touches these guys," one person wrote.
"Why are people calling the cast member a Karen ... it's literal harassment," another commented.
Several TikTok creators also posted reaction videos in response to the awkward moment.
"Just admire him from afar like the rest of us because that is not okay," one creator said in a stitched video, alluding to calling it "sexual harassment."
Another creator called Vazquez an "obnoxious influencer" who just wanted to "take advantage of [the character] to make a video so [she] can get a bunch of likes."
See more reaction videos, below:
In 2020, Vazquez placed as a runner-up alongside fellow contestant Johnny Middlebrooks on Season 2 of Love Island USA.
Today, the influencer has nearly 1 million followers on TikTok.
25 Not-So-Magical Incidents at Disney Theme Parks
From ride malfunctions to guest outbursts and Animatronic fails, these incidents at Disney theme parks were so not Mickey Mouse-approved.