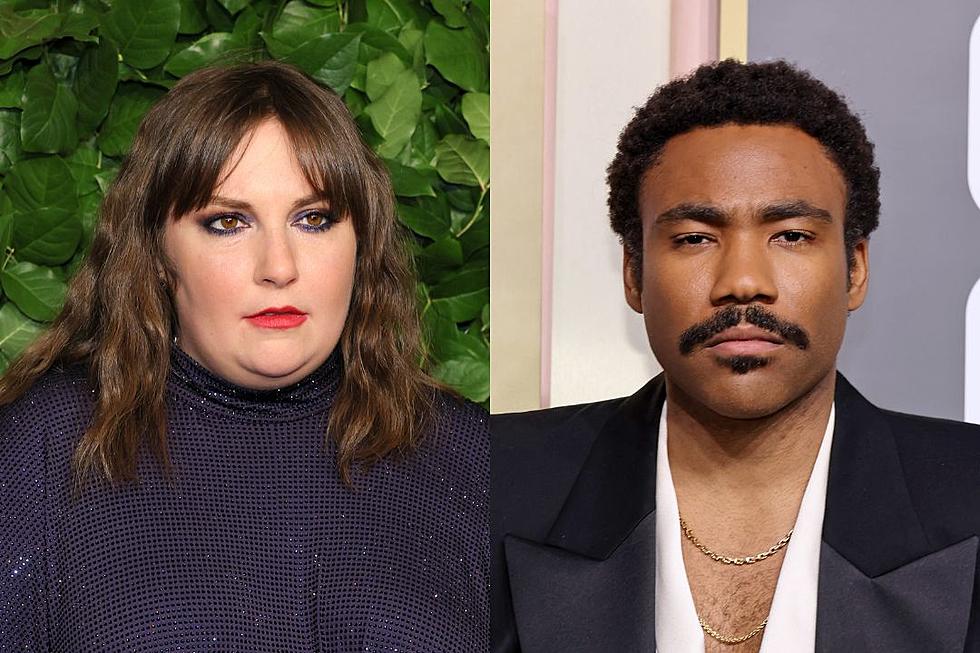 Lena Dunham Denies Saying N-Word Following Donald Glover Joke
Mike Coppola / Amy Sussman, Getty Images
While presenting an award Sunday (March 5), Donald Glover said that Girls star Lena Dunham once used the N-word.
Golver was presenting an award to executive producer Paul Simms at the Writers Guild Awards when he said, "I asked Lena [Dunham], 'Hey, what made you decide to work with Paul [Simms]?' And she goes, 'Honestly, this n---- lets me do whatever I want.'"
"And I remember thinking two things. One, Lena is using the N-word extremely liberally. Who does she think she is, Chevy Chase? And two, that's the kind of producer I want," he continued.
After Glover's speech went viral, Dunham's representatives released a statement denying the actress-writer-director, who previously worked with Glover on HBO's Girls, ever said the racist slur.
"Donald Glover told a joke referencing Lena Dunham for last night's WGA Awards. It included, for effect, language Lena never used, nor would use. Full stop," her reps said.
Representatives for Glover, meanwhile, confirmed that the comment was a joke and that Dunham did not actually say the slur.
Allegedly, the actor who actually used the slur was Glover's Community co-star Chevy Chase, who Glover also referenced in his speech.
"Chevy Chase once called [Saturday Night Live writer Herb Sargeant] one of the funniest writers working in television. Chevy Chase once called me… You know what? This is about Paul," Glover said.
According to The Independent, the story appears to align with Community showrunner Dan Harmon's 2018 interview with The New Yorker, in which he claimed that Chase would "make racial cracks between takes."
READ MORE: Lena Dunham Dragged for Saying She Wants Casket in Pride Parade
However, this isn't the first time Dunham has been accused of racism.
Dunham's alleged old tweets resurfaced in 2016, showing she seemingly made several racist remarks as "jokes." Plus, around the same time, outlets such as The Guardian criticized her essays about visiting Japan as being racist.
Dunham also faced backlash for comments she made about a trip to India with her mother. The comments appeared in a 2013 Rolling Stone cover story and were addressed by South Asian blog The Aerogram.
Dunham has been criticized for a string of other tone-deaf remarks over the years.
Celebrities Accused of Cultural Appropriation